Pinterest is one of the fastest-growing top ten social media networking sites currently, and has set itself up to become a major player in social media marketing strategy for many businesses. If your business has an e-commerce site or blog utilizing galleries or featured images, it may benefit from the creation of a Pinterest profile for the business. Pinterest is a great way to let social media grow your traffic organically online, especially because Pinterest currently still has "do-follow" links from pins to websites.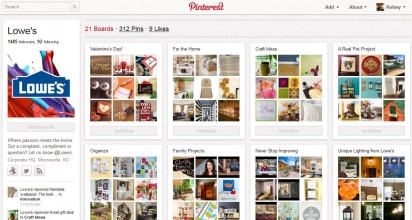 Screenshot taken Feb 6, 2012
Profile Set-Up
Pinterest is still in beta-invite only mode, so ask an employee or collegaue with a Pinterest profile for an invite. Use a basic email address that several employees can access when needed, such as [email protected] or [email protected]. Save the login email and password in an online spreadsheet so employees can login when needed.
Once the profile has been created, be sure to fill out all the applicable profile fields, including links to twitter, the company website, and Facebook, as well as the RSS feed if applicable. The profile picture should be the company logo or a current branding theme that consumers will recognize.
Next, create boards that are applicable to your business. For instance, a hardware store could have separate boards for rooms of the house, such as "Kitchen Ideas" and "Bathroom Inspiration".
Pinning
Try to get 6-10 items on every board. When a list of boards are shown on a single profile, it shows six of the pins on each board, so it's important to have at least six images so there aren't any blank spots.
First, upload items from the e-commerce website or from inspiration galleries from your own website. Make sure they are visually appealing and go along with the overall "look" of Pinterest. For instance, users will gravitate more towards a photo of a completed side table using wood and screws rather than separate photos of the wood and screws themselves.
After uploading items from the business website, start following other Pinterest users and brands (following on Pinterest is the same concept as following on Twitter) and re-pinning their pins. Hover over a pin (separate images are called pins) and then the options to "Comment", "Re-Pin" or "Like" the pin should appear at the top corner of the image.
Just like with Twitter, be sure to re-pin other user's content along with promoting your own. Be sure to answer any comments users may post on your pins and follow back users who follow you. You never know when one will become a loyal customer!
Kelsey Jones runs her own social media and search marketing business, The Social Robot, where she helps clients grow their online presence. She was voted one of the top 100 marketers of the year by Invesp in 2009 and has worked for Yelp, Run.com, and Bounty Towels. Check her out at The Social Robot and on Twitter @wonderwall7.