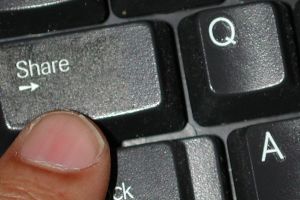 I often refer to the term I use to describe amazing content that people want to share online as shareworthy, and today, I'd like to dive a bit deeper into the concept of creating shareworthy content, so your blog and online reputation can benefit from the compounding effect of blogging, attract more visitors, and grow organically over the long term. In other words, shareworthy content leads to sustainable growth, and I'm going to tell you how to do it.
What is shareworthy content?
It's simple. Shareworthy content is amazing content that people like enough to want to tell their friends about it and share it with their social media connections. They can share that content by blogging about it on their own blogs, tweeting it on Twitter, linking to it on Facebook or LinkedIn, and so on. Therefore, shareworthy content is not necessarily viral content that explodes across the Internet. Instead, it's a tangible form of the world-of-mouth marketing of the social web that businesses covet.
How do you create shareworthy content?
Creating shareworthy content takes more effort than simply publishing a quick blog post about a hot topic that's trending on Twitter or a breaking news story. Instead, creating shareworthy content takes a passion for your subject matter, an authoritative and unique voice, and a consistent attention to detail. In other words, you need to speak from the heart with confidence, being sure to add your own personality and view points, but be sure to add value to the online conversation at the same time. Also, take the time to proofread your posts, check your sources, and provide accurate attribution and appropriate linking.
Of course, there are examples of shareworthy content that don't follow all of the guidelines suggested above, but if your goal is to grow your blog, your online presence, and your reputation across the social web, then you need to focus on consistently publishing shareworthy content. That doesn't mean every one of your blog posts has to be Pulitzer Prize material, but it does mean that your blog is a direct reflection of the time you put into developing it, and that includes the time you put into developing shareworthy content.
Think of it this way — no one is going to want to share a blog post that simply regurgitates an existing story, is filled with typos, or lacks a confident voice. Would you share the blog post that says, "I am a dermatologist, and I tell my patients that to avoid getting sun burn, you must apply sun block at least 20 minutes prior to going out in the sun," or the post that says, "I think to avoid getting a sun burn, you have to put on sun block about 20 minutes before you go out in the sun, but I'm not sure. I can't remember where I read that," with your online connections? Alternately, think of the type of content that makes you want to share it with your own online connections or write about it on your blog. What makes that content valuable enough that you want to talk about it and share it?
People who share content are betting their own reputations on that content. They don't want to lose their own followers and connections because the content they share is terrible. Just like you, they share content that is a direct reflection of their own online brand and reputation. Give them something shareworthy, and they'll come back for more.
What do you think makes a blog post or piece of online content shareworthy? Leave a comment and share your thoughts.
Image: stock.xchng