Blogging has become the most popular and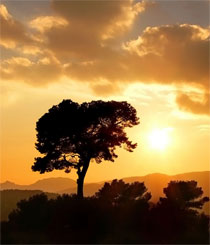 easiest form of expression online which has also helped many to achieve financial success for themselves and their families. Although we all have various reasons for blogging, a vast majority is driven solely by the idea of making millions online and living the internet lifestyle in the shortest time possible.
Unfortunately, the get rich quick mindset is like a house built on sand and easily gets washed away in disappointment when the reality hits that its going to take some really hard work. At this point, one may experience blogger burnout or just feel like giving up but I say, don't give up, reassess your strategies, redefine your goals and look at all that can be gained through this fulfilling endeavor.
Whatever your reasons may be for quitting, here are 5 solid reasons for sticking to it and never give up on your blog.
Low Overhead, Profitable Business
A professional blog is the easiest and most cost-effective business you could ever start since all you need to think about spending on initially is hosting and maybe a premium blog theme. Your online business can be launched with as little as $90 and the earnings are unlimited as long as you provide a useful solution. If you have a business idea or already provide a service, find a way to incorporate it into a blog and use it to spearhead your online marketing activities. Remember, your audience and prospective reach will now be global, think of the possibilities.
Builds & Strengthens Your Personal Brand
Whether you are a professional or a student leaving school looking for a job, you need to build and maintain your brand. In fact, your brand is you and this is what you sell when you try to land that dream job or convince that prospect to make a purchase. Growing a reputable blog reflects greatly on who you are and if you market it and make your ideas known, growth in your popularity and reputation will lead to an unlimited number of opportunities online and off.
Vast Opportunities To Earn
While you may be disappointed by the get rich quick idea, the blogosphere is always growing and legitimate opportunities for earning are abundant. They key is to develop the right strategy and mindset. Create a plan that outlines your short, medium and long-term goals for your blog and how you can offer information and services of great value to your audience. Trust me when I say that your audience will pay if you consistently deliver the value, just ensure that it is reasonably priced. There are lots of unique ways to earn money through your blog, you just need to try.
Your Life Will Never Be The Same
The purpose of your life is to live it to your fullest and as humans we grow each time we excel at tasks that were deemed difficult or impossible. If your blogging success seems impossible or beyond your reach, think again. Most of the highest paid bloggers started from nothing, zero knowledge, zero money and zero reputation and all they did was just to never give up.
Overcome the doubts by taking small steps in blogging daily or weekly and you will soon realize that it is a natural part of what you do and your drive to achieve will be insatiable. Your thirst for accomplishment and greatness will overflow into all areas of your professional life and it will never be the same again.
There Is Nothing To Lose
That's right, there is nothing to lose and when you think about it, making a presentation in front of your boss or board of directors or even in front of a conference audience is 100 times more nerve-wracking than putting yourself out there through your blog. The risk is moderately low as long as you pay attention and adhere to simple standards while you work to make your mark.
Conclusion
Your blog is an asset that appreciates like a piece of property in a prime location. Focus on continuously learning and building your blog and it is guaranteed to pay off.