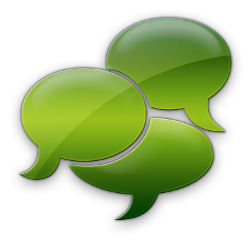 Many bloggers are looking to increase the comments on their blog so I thought I'd share my experiences in this area. Number of comments and comments per post are popular stats to look at because they can show how well your blog is doing in developing conversation and community with readers.
My stats are not that great. I've published 173 posts so far on my gaming blog and received 443 comments. This comes out to just a little over 2.5 comments per post. But over my last 15 posts, I've been averaging over 8 comments per post. That number has been encouraging since I only have 120 RSS subscribers.
Based on my experience, here are some tips to consider:
Drive more traffic. Unsurprisingly, my high traffic posts tend to have the most comments. With more eyeballs to your posts, you have more chances that some of the visitors will leave a comment. That's why you'll find a lot of comments on the top blogs even though some of their posts may not be that deserving of a comment.
Write longer posts. I have a few posts that haven't received a lot of traffic but they still attract many comments. Most of these posts are longer than the average blog entry. They are at least 1000 words. It makes sense that longer content attracts more blog comments. The more info you have, the more chances your readers have of finding something interesting in the post and responding to it. They may not find the post as a whole very remarkable but a small section in the post could entice them to comment.
Of course, don't just write more words when a few will do. You don't want to be like the long-winded college student trying to meet a word requirement for a term paper. Instead, think of a topic you can elaborate on, a topic that will take more than 500 words to explain. Then, explain it as best you can.
Give the conversation time to develop. Tim Ferris, author of The 4-Hour Workweek, says you should space your posts at least 3-4 days apart. This gives your audience more time to converse in the comment section since the latest post tends to get more attention than the other posts. At first, Tim tried posting more regularly. However, he felt like the post frequency cut off the conversation of the older post too soon. His readers would stop focusing on the previous post and move on to the newest post. He did a test and sure enough he found that he got more comments per post by publishing them farther apart.
Fortunately, I stumbled on this strategy by accident. I initially wanted to post every weekday or every other weekday. But I realized I was too busy and 1-2 posts per week was the best I could do.
Create unique content. Unique content gets people talking because it jolts them out of their comfort zone and makes them think. But make sure your content is conceptually unique – not just a rewrite of existing stuff your audience already knows. Check out Sugarrae's classic post, When Unique Content Is Not "Unique", for more information.
Reply to your comments. If you want to provide a place where people feel free to discuss, you should provide a good example. Respond to your comments especially the ones from your regulars. Make them feel like you value their interaction. Realize that many of them will revisit your blog to see if you will reply. If you don't, they may stop leaving comments.
Include a call to action. If you want your readers to leave comments, ask for their opinion at the end of the post. Also, tell them they're free to ask questions and you'll do your best to answer them.
Over to You
How do encourage comments on your blog?
Performancing offers blog management services.