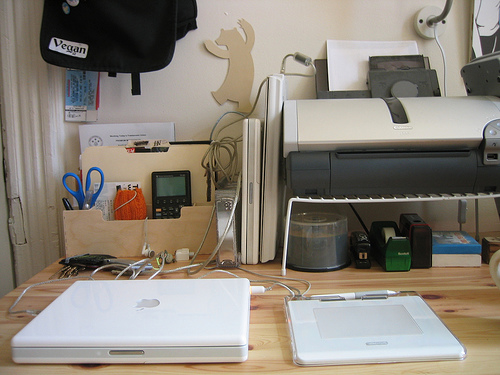 You could be the most talented web designer, artist, photographer or writer in the world, but no matter how in demand your work may be, if you can't get the basics of running a business under control then you are going to struggle to make a living for long.
Whether you are just branching out on your own, have left full-time employment for whatever reason or have built up a strong client base but need to ensure you get the business side right, then there are plenty of affordable tools out there to help you. Working for yourself means there are a lot of more mundane things that you take for granted when working for an employee which you cannot afford to forget about.
Whether it's paying bills, organising your tasks or keeping your clients updated with your progress, here are three of the best tools out there to help make running a small business that little bit easier, leaving you more time to do what you do best:
Kashflow
Cash is king when it comes to your business and if you don't get your cashflow under control from day one then your career as a freelancer could be a very short one. Thankfully, there are plenty of tools and web-based platforms available to help even the least numbers-savvy of us to get to grips with our finances. Kashflow is one of the best and looks good too, helping make everything simple, clear and easy to understand. Recurring invoices, payment reminders, bill tracking and automatic tax reports all help you stay on top of the virtual paperwork.
Producteev
If you forget to do something when you work alone then there is nobody else there to shout at you and remind you. That's why task management apps are essential to help you stay on top of your to-do list. Choose one that syncs across the cloud to keep you updated on your smartphone, iPad, laptop or from a computer anywhere, so you'll never be without your to-do list. Producteev offers a free plan for a single user making it more attractive than some of its pricier rivals and with Google Calendar syncing and email reminders about imminent deadlines it will certainly help keep you in check.
Dropbox
The days of sitting at one desk in one office using one computer have gone, these days the virtual workplace is taking over. For small businesses especially, or freelancers just starting out, the expense of renting an office is one that may not be instantly necessary, with flexible workspaces or home offices – possibly even the local coffee shop – proving more than adequate as long as there's an internet connection and somewhere to put your laptop. But this means staying in sync across devices or wherever you are is essential. Dropbox makes this simple and gives you instant access to all the files you need on your PC, laptop, iPad or smartphone, while sharing work with clients and colleagues is a breeze as well.
This article on essential online tools ha been brought to you by iDream Design, gurus in Web Design Cambridge. If your looking to create an online presence for your business or to kick start your current website, iDream Design can get the job done.