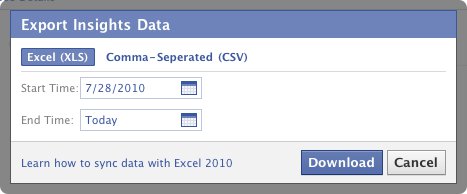 Facebook released an analytics dashboard for Facebook Pages, called Facebook Insights,  a few years ago. Since then, it has gotten more robust and able to show administrators several different types of data. While it is great that Facebook is so thorough, the multiple-column spreadsheet can be a little overwhelming. (It is  also impressive to show off to bosses and clients, but data-overload just for the sake of appearances never did anyone much good in the long run.)
However, there are some great metrics in Facebook Insights that can give business owners and social media marketers a good glimpse into the overall health and activity of their Facebook page. After selecting the date range and downloading the Excel spreadsheet, take some time to review each column and decide which strategy works best for you– several of the metrics are sequestered into daily, weekly, 28-day, and monthly increments.
Here's where it gets confusing. For each date, the monthly increment is that date to the past thirty days. For example, if a spreadsheet was for June 2012, and you looked at June 9, 2012 in the monthly column, that number would be approximately the last 28 days, ending in June 12: May 10-June 9, 2012. Even though the spreadsheet is for June 2012, the monthly metrics hold that running 28-day total for that specific date. So, looking at the columns for the last day of the month should give you that month's total.
The following are some of the most important metrics on the spreadsheet, which you should be focusing on and reviewing at least monthly. Explanations are provided from the Insights spreadsheet:
People Talking About This: The number of people sharing stories about your page. These stories include liking your Page, posting to your Page's Wall, liking, commenting on or sharing one of your Page posts, answering a Question you posted, RSVPing to one of your events, mentioning your Page, phototagging your Page or checking in at your Place. (Unique Users)
Lifetime Total Likes: The total number of people who have liked your Page. (Unique Users)
Engaged Users: The number of people who engaged with your Page. Engagement includes any click or story created. (Unique Users)
Total Reach: The number of people who have seen any content associated with your Page. (Unique Users)
These are just some of the top metrics that are important to review. What is important to each company or organization will vary. Even though Facebook Insights doesn't have scheduled reporting, simply setting a monthly reminder on the first day of the month to review the previous month's Insights becomes like second nature.
Graphic from developers.facebook.com
Kelsey Jones runs her own social media and search marketing business, The Social Robot, where she helps clients grow their online presence. She was voted one of the top 100 marketers of the year by Invesp in 2009 and has worked for Yelp, Run.com, and Bounty Towels. Check her out at The Social Robot and on Twitter @wonderwall7.