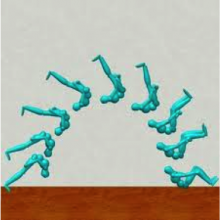 Oftentimes the reason a website is for sale is because there are problems with the site. In the majority of cases, these problems are related to search engine optimization (SEO). Many new website owners see solving a few SEO issues as something that can be done quickly, but this is usually not the case when you're flipping an entire website. Unfortunately from personal experience, I know that saving a site from lots of Google penalties is not easy feat, and in fact will take you a great deal of time.  Those who buy a website often put a lot of thought into the design and future content and assume they will fix SEO in the meantime, but this logic is backwards.
However, SEO problems should not scare someone away from buying a website.  Making the decision to flip a website can still be a good move for many because there are several benefits:
– You will already have a few readers and a little bit of traffic to get you started.
– The structure of the website is usually already there, so you will need to make modifications as opposed to starting from scratch.
– In many cases flipping a website is less expensive than starting new.
– You could likely make a profit. The logic is the same as if you were flipping houses.
The best thing you can do is really analyze the SEO of a website before buying. Consider asking the current owner some of their past SEO strategies and whether or not they were affected by any Google Panda or Penguin updates.
How to Fix SEO When Flipping a Website
If you've forgotten to do this and have found yourself with a website in need of a lot of SEO help, don't sweat it. There are plenty of things you can do to get your website on the right track:
1. Remove Duplicate Content. The first thing you should do is remove any duplicate content on your site. You can tell if the content is duplicate by searching for a few sentences in Google. You can also use CopyScape or go through Webmaster Tools to catch those who might be stealing your content.
2. Get Rid of Spam Links. Check to see where the links on your new website go. If they go to a site that is clearly spam—a site with lots of links, little original content, low PR—delete these links.
3. Get Rid of Spam Backlinks. You do not want spammy sites linking back to your site, so it's important to determine where your backlinks are coming from. You can do this through Google Analytics.
4. Fix Your Navigation. Google sometimes penalizes sites because of poor navigation. Check to make sure that your site has good internal linking, and consider adding breadcrumbs and making sure your HTML is working correctly.
5. Talk with Google. Once you have made some of these major changes, it's important that you talk with Google and let them now that you've acquired the website, made changes, and no longer deserve to be penalized. You can do this by submitting a reconsideration request.
It's important to remember that you should do all of this before promoting your website or getting involved with PPC advertising. You should not want to draw people to your website until you have a really solid website with some great information. You don't have to wait until your website is perfect, but do try to get the major problems (discussed above) fixed before pushing forward.
Have you ever flipped a website with a lot of SEO issues? What were the steps you took to make it happen? Let us know in the comments below!
Photo Credit: banklawyersblog.com
Amanda DiSilvestro gives small business and entrepreneurs SEO advice ranging from Google Analytics How-To's to AdWords best practices. She works as a ghost writer and freelancer at amandadisilvestro.com and Coastal SEO Consulting, and works as the Marketing Manager for a Travel Company, Discover Corps, full-time. Visit her website to learn more!
Amanda DiSilvestro is the Editor in chief for Plan, Write, GO. She has been writing about all-things digital marketing, both as a ghost writer, guest writer, and blog manager, for over 10 years. Check out her blogging services to learn more!