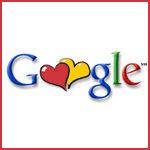 The upper echelons of the Google search results are being invaded by a newcomer; the search engine optimized video.
But search engine optimization is all about coding and writing text, surely? Real SEO is stuff like keywords, language, semantically structured information, well-aged domains with buckets of trusted incoming links and well-written authoritative content?
Well, it is true that the vast majority of currently indexed web content is text-based, and that those trillions of web pages contain an equally mind-boggling number of images. This huge amount of 'traditional' web content has been growing exponentially since the early days of the internet, and the challenge of ranking highly amongst it is directly proportional to that growth. Any new or even temporary way to rise to the top of the pile is therefore more than welcome. Right now, optimizing your video files –VSEO -can be a shortcut to page one.
Here we can see how optimized videos can even beat a celebrity's homepage to the top spot; Apologies for picking Paris, but she does sooo much for the feminist movement… well, maybe not but this illustrates my point perfectly!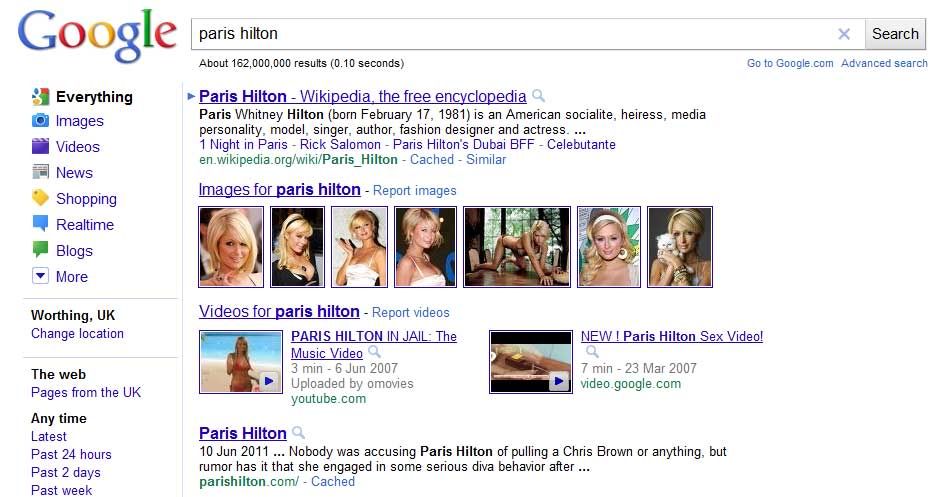 Why search optimised video is a quick route to page 1
This shortcut is mainly due to one simple fact; indexed video assets are still relatively rare, so the competition is thin. For now, video SEO allows you to neatly side-step some of the factors that may be holding your traditional SEO methods back. Currently, some of the crucial factors of 'normal' SEO do not apply to indexed video content. The age of your domain, number of pages, amount of on-topic content, number and quality of back-links, and countless other regular factors simply don't come into it.
Why videos are exempt from many search result ranking factors

This makes sense if you think about it; if you registered as a YouTube user today and uploaded the definitive guide to SEO for videos, Google would not hide your content on the basis of its 'new' origins. Being a new user would not define you and negatively impact the video itself; after all, you could be Matt Cutts using a pseudonym. When a music artist releases their latest offering on the internet, users obviously want to find the right clip immediately – not to wait for it to gain a PR score and thousands of back-links. When someone uploads an important bit of mobile phone footage of something in the news, we want to be able to find it straight away. If your cat just did the funniest thing ever… we don't want to wait. For these reasons and plenty more, Google quite rightly recognised that Video search needed a different approach to ranking.
Video SEO the YouTube way
By definition, a video clip uploaded on YouTube or the like is a stand-alone object, not necessarily associated with a particular website, company or individual. On YouTube, your videos will have the advantage of being indexed immediately and showing up in search results with almost no delay. But beware – when a user clicks on the video link they will go straight to YouTube to watch it, not to your website. This is still an effective strategy for brand placement, but relies on viewer memory, your user profile or comment links to guide the video's audience back to you.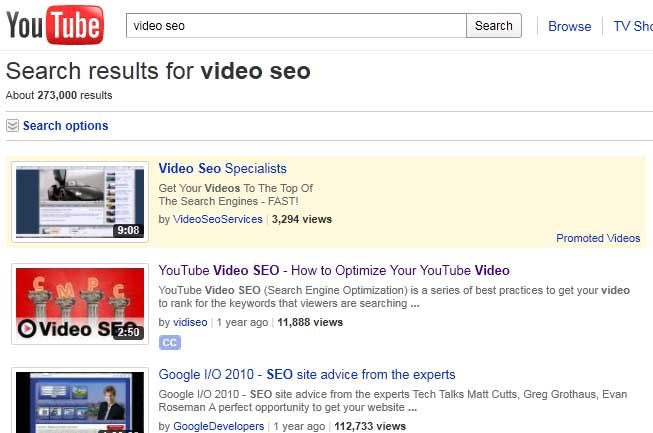 'Real' Video SEO
If increasing website traffic is your aim, then 'real' video SEO is the way forward. For starters, you need to host and embed the video on your own website. Remember that the only defining feature of 'video' is the fact that it is in a recognized video format such as .avi, .mov, .mp4 etc  – so don't assume you need talent, technology and a budget!
Your 'video' could be a screen capture, a series of stills with a voiceover, an animation, or you could simply record yourself with a webcam. For now, Google can't actually see how good your acting is – it relies on metadata, titles and the text contained in headers and subtitle files.
Getting your SEO video indexed
Submitting your SEO video to Google is the next step, as it won't be crawled and indexed like a regular page. You need to actively submit video information using a media RSS feed or video sitemap.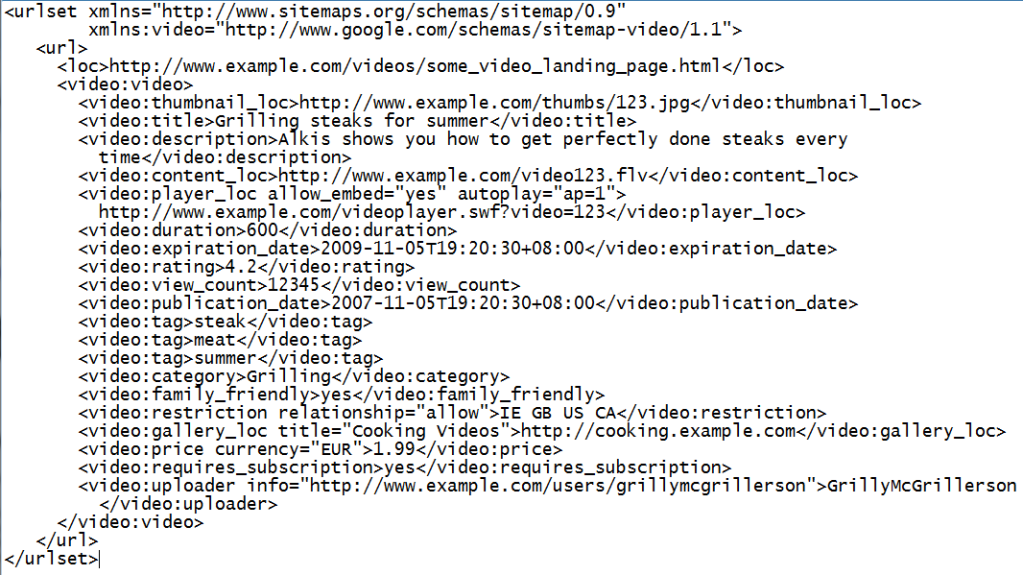 Video sitemaps work just like regular sitemaps, but only contain information about your video files. As with Google's product feed specification, there are many 'non-essential' attributes in the video sitemap specification. But as with Google Products, we can't really be sure which ones factor in search positions, or when that will change – so use as many as possible. Here's a cheeky idea; submit multiple copies of your SEO video in different formats, or with different titles. No existing algorithm can detect duplicate content inside your video files – yet.
Don't forget to also include a robots.txt file on all your video pages to ensure Google is not blocked, and can quickly verify your embedded video content!
Keywords, Description, Title and Title Tags for VSEO
Optimise the title of your video much the same way as you would any other kind of content – give it a good name that gets to the point, references the subject clearly and doesn't waste space. Be specific and use long-tail search terms to your advantage; a video titled 'Video SEO – How to Search Engine Optimize your Videos' has far less keyword competition than one simply titled 'SEO'.
To conclude, here's a great real world example of everything we've been talking about.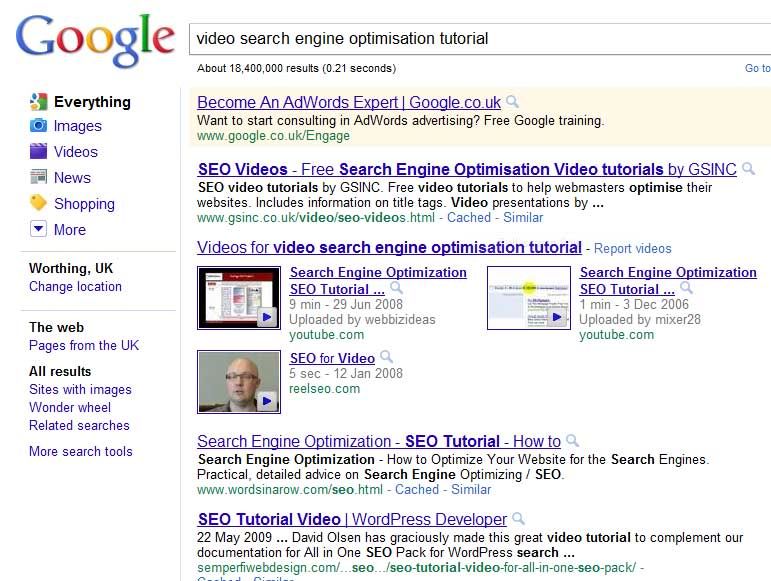 As you can see, reelseo.com has beaten us all to it with a nicely optimised video at the top of the organic results and is listed alongside videos from Google's own YouTube site. As jealous as we may be – the video and its placement illustrate great use of video search optimization techniques; getting a small SEO firm's website link on position 2.
So that's it all you SEO Spielbergs – go make a movie, apply some VSEO to your specific key terms, and hopefully we'll be seeing you on page one in no time at all.
Guest Bio: Gez Hebburn is an SEO blogger, copywriter, musician and general Geek. Immersed in the world of SEO/social/insight/SEM/design and content creation, Gez works at the Fresh Egg agency in Worthing UK. When he isn't worrying about a clients' copy or search engine optimisation, he can normally be found feeding his kids or playing an acoustic guitar.