Metadata is information about a webpage that doesn't appear on the page itself, but instead is part of the code that makes the website. For example, the page description in the metadata may not appear on the page itself, but will appear on search engine previews and, depending on your site's code, along with the post when it's shared on social media or through email. The right metadata can influence your click-through rate and help improve your site's visibility by improving your content and engagement.
What is the Meta Description?
The meta description is simply a description of the webpage you've created. The important thing to remember when thinking about meta descriptions is that each one describes a certain page, not your entire website. So while your landing page might describe the overall purpose of your website in the metadata, a page where you sell items would have a different description.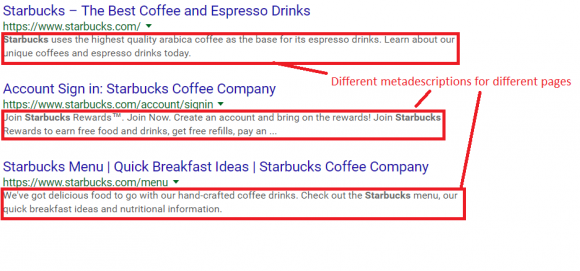 As you can see in the search results for the Starbucks website, each page is described differently so that a viewer knows exactly where they'll be landing if they click the link. When updating your website to include new metadata or new pages, it's very important to differentiate between a menu, a sales page, a directory or any other type of page.
In that way, you're offering your potential viewers more utility before they even get to your page. In the examples above, a viewer interested in signing into their account and a viewer interested in seeing the available food and beverage choices would be able to click through to the information required without extra clicks on the website.
Google won't always use the meta description that you write—sometimes they generate their own from the page content. But they use it often enough that the meta description is one of the most important metadata adjustments you can make, and well worth the time it takes to perfect it.
 Writing a Compelling Description
Your metadata description doesn't just inform a search engine seeking out information about the content of your site. It's also the first thing a viewer sees when you site appears in search results. Since your search ranking may be influenced by the click-through rate your site gets, it's important to craft a description that lures visitors in and holds their interest. Boring or irrelevant descriptions could cause a reader to look elsewhere for content.
To write a compelling description, start by stating the purpose of your page. Keep in mind, the description has to be short and punchy—something that grabs the reader's interest and keeps it. You can also use a call to action to convince a viewer to come to your page. Telling them to click the link can actually help you convince someone to convert from a viewer to a click.
You can test different meta descriptions to see which offers the most utility. Even a good meta description may be out performed by an alternate one, so it's well worth the time it takes to adjust your meta description and then track your traffic to see which offers the most conversions for your search terms.
Meta Description Examples
As you write your meta descriptions, think about what a viewer looks for and what you can offer them in a quick, 165 character snippet to get them to click on your page. For example, a parent searching for a local zoo might prefer one of these descriptions to the other:
"Come see the lions, tigers and bears at the San Diego zoo! Children under 12 are admitted free Monday-Wednesday. Click now to receive money saving coupons."
"San Diego zoo is open from 9-8 Monday through Sunday, except in cases of inclement weather. We have a wide variety of animals on show." 
One of those descriptions is more compelling, offers something to a common viewing group (parents with young children), and has a call-to-action telling the viewer to click to receive even more utility. The second one is dry and informative, but offers no real utility or excitement. A person testing meta descriptions might find that one of those works better than the other for getting more clicks.
Since you need multiple meta descriptions for a multipage website, there are plenty of opportunities to try out different strategies.
Essential reading:
Meta Description Magic: Think Less about SEO & More about Click-Throughs – Kissmetrics
Meta Description Q & A
What is the purpose of a meta description?
The purpose of a meta description is to describe the content of your page in such a way that a person clicks on your link to view your site.
Where do I put my metadata?
Your metadata goes into the html of your webpage. For example, the meta description tag looks like this (for Google Chrome download page):
<meta name="description" content="A fast, secure, and free web browser built for the modern web. Chrome syncs bookmarks across all your devices, fills out forms automatically, and so much more..">
If you don't design your own website, the person who does can insert the code for you or show you how to adjust it. There are also website and SEO plugins available that have places where you can update your meta description for each page without adjusting the actual html of your website manually.
How many meta descriptions do I need?
Each page of your site should have a different meta description, and each page can only have one. So you should have as many meta descriptions as you do pages on your site.
How do I make Google use my meta description?
You can't choose whether Google uses your description or creates one of their own. The best way to have your meta description used is to make sure it's relevant, offers utility, is well-written and is right at 155 characters long. If it's too long it will trail off the page, but too short ones may be replaced by Google.
Using Keywords in your Meta Description
When writing a description or any other piece of metadata, keywords are one of the most important factors. Take the three main keywords or phrases you want to rank for, and try to work them into your metadata in an organic way. In other words, the words or phrases should feel natural in the titles and descriptions, not awkward or forced.
Try writing out a few different test descriptions, for example. You can test with them by watching how many people click-through to your website. If one doesn't seem to be getting an acceptable number of clicks, try using another description. With time and testing, you can narrow down which will serve you best in the long term. You can also test ranking for different keywords in the same way, and seeing which set offers you the greatest visibility.
One way to write a compelling, standout description is to check what your competitors are doing right and wrong. Perform a search for the keywords or phrases you want to target and consider what makes one description better than another. If a description offers value, it's better than one that doesn't. Value could be in the form of a free trial, an answer to a question, or expert information. The description should also be welcoming and encourage the people you're trying to target to click on it.
Since you're competing for a top slot with paid advertisements, one strategy is to write a description that isn't selling to the reader. It could make you stand out from advertisement listings that are set above yours.
Essential reading:
How to Write an Effective Meta Description Tag – Informatics
Titles, Tags and Image Metadata
Metadata also includes the titles of your pages, the tags for your page and the images on your page, all of which can influence your SEO by adding content that the search engines crawl and index. Image metadata influences where pictures on your site appear and helps you get more visibility in image searches, so make sure to include relevant keywords that will attract the right kind of viewers. Titles and tags should also use keywords, though tags are just a list and titles need to be crafted to be organic, just like descriptions.
Titles are one of the most important types of metadata because they give the search engine and the viewer an idea of what to expect on your page. A short, descriptive title that uses one of your targeted keywords is best. According to Moz, titles under 60 characters long will display correctly 90 percent of the time. If you want a higher probability of your title showing up exactly as you wrote it, keep it at 55 characters. Don't use all CAPS titles, since it shortens what is visible.
Title Examples
Reflections: Discounted mirrors cut and shipped quickly
This title is 55 characters, including spaces, and includes both the name of the site and what you can expect to find there.
Chai Tea: A list of the teas we offer and prices per ounce
This title is 58 characters, including spaces, and includes the name of the site and what you can expect to find on the landing page. It would be appropriate for a page that isn't the main page, but rather one with a menu of what's available and how much a person can expect to pay.
Index and NoFollow Tags
Another important consideration when crafting your metadata is the information in the robots.txt. This is part of your code that tells crawlers whether they should come to your page, catalogue the information, store and share it with searchers. For example, "follow" is a better metadata option than "nofollow" for a site that wants a better ranking. "Follow" means that the search engine can trust any links on your site and can safely continue on through to the directed Webpages. "Nofollow" means that links shouldn't be treated as safe. The "index" option is likewise better than "noindex". If you choose "noindex", the search engine that crawls your site won't catalogue and share your results with searchers. Always use "index" in your robots.txt metadata.
Essential reading:
Follow Links Vs. No Follow Links: Should You Care? – Wordstream
Influencing Factors & Final Thoughts
One important factor to consider when writing metadata that will potentially appear in a search engine listing is the length. For the best description, stick to 155 characters or less. Otherwise, the description might get cut off by the listing and the viewer won't be able to see the entire thing.
Remember that the best metadata in the world won't work for you unless you can deliver high-quality content, too. Let your descriptions and titles be accurate reflections of the content of your page, so that you don't lose any SEO advantage you gain by optimizing the code of your Webpage. If you're updating or improving the content of your site, consider optimizing the metadata for each page that you've improved. That way, the new metadata will lure people in to see the high-quality information available on your page.
Keep in mind that some search engines will bold the term that a user is searching for. If you use that term one time in your title and another time in your description, it may draw the viewer's attention and help encourage conversions. When you write your metadata, try to link the titles and descriptions for each page so they're working together to target a searcher.
Optimizing your metadata can help improve the visibility of your Webpage and boost your SEO. When your page has a higher rank and more people access it, the products and services you want to share are available to a larger audience and your engagement is increased. Since refining your metadata can help you meet that goal, testing new metadata and keywords is a valuable use of the time you spend developing your site.