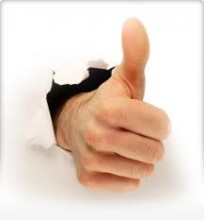 While the web design of your site and SEO tactics play a large role in being found on Google, it's important that you're optimizing for convections past that point as well. Once a customer is on your site, you have to entice them to purchase your product or service.
One way to be successful in this area is to utilize customer testimonials to your advantage. There are three main ways to use and benefit from said testimonials, product promotional, social sharing and business credibility. Though you can hope that sites such as Yelp provide your restaurant with great reviews, this is a way to take control of that.
Promote a Specific Product in Your Restaurant
Instead of simply tweeting out some pictures of your new menu item or releasing a press release, ask current customers for their reviews. Not only will this get them thinking and talking about it, but you can use their statements to your advantage.
Placement is everything: Use the best testimonials on the specific product or food page. While customers browse the page for something they haven't seen or tried before, they can still get a first hand opinion. And, according to the 2012 Local Consumer Review Survey, 72% of people trust online reviews as much as personal recommendation, making this a powerful tool.
Social Media Juice
For restaurants, social media is a great place to put your marketing efforts. Providing customers with coupons, exclusive deals and new menu items are just a few ways to make most of these platforms. However, another great use is to share your customer testimonials.  With proper timing and use, these can be a valuable asset.
Don't be too proud: Don't post a new testimonial every day – you may come off as proud and self-indulgent. Instead, consider sharing one new review a day, or whenever an especially good one comes in. It could be the deciding factor for someone heading out to eat.
Show the Credibility of Your Restaurant
Of course, when all is said and done, you want to be the one your customer chooses. Especially in heavily populated areas, there are so many aspects to be taken into account for your customers' choices. However, utilizing testimonials on your menu can be a clever way to give you the edge up on others within your niche.
Menu spot: Customers often check your menu before heading to the restaurant, so placing testimonials right where they'll be looking is a great use of this marketing gold. The only stipulation is that you use them tactfully – only utilize one sentence blurbs and design them into the menu in a way that is fun, not blunt or overreaching.
Testimonials are a great way to appeal to potential customers. With such a high premium placed on recommendations and reviews, it's a valuable asset to your business and overall marketing strategy. Be sure to take full advantage and use them in the most effective places. From your website to your menu, you want customers to see them at each phase of the process; choosing a place to eat, finding a great dish, and returning for more.
Photo Credit: earlychildhoodwebinars.org
Amanda Dee is a professional blogger that writes on a variety of topics including Fort Worth restaurants. She writes for Restaurants.com, a leading directory of restaurants.
Amanda DiSilvestro is the Editor in chief for Plan, Write, GO. She has been writing about all-things digital marketing, both as a ghost writer, guest writer, and blog manager, for over 10 years. Check out her blogging services to learn more!