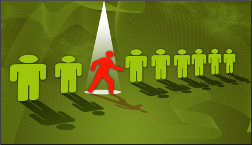 One of the blogging tips that I hear a lot is be different. Be unique. Stand out from the crowd. This is a great advice for typical businesses and it's also helpful for probloggers especially with all the competitors on the internet.
But how can you apply it practically to your blog?
I've been thinking about this advice for the last couple of years and from my experience, I think I've realized the best way to differentiate your blog. The answer is pretty simple so it might surprise you.
Narrow your topic.
That's it. Nothing too complicated or revolutionary, but this suggestion will make your blog different from 99% of the other blogs.
Copycat Blogs
I wrote last week that copying A-list blogs is not a good idea for the average problogger. Yet, most blogs look to the A-listers as examples. I said that reaching the success of the most popular blogs is very unlikely. It's much better to implement the strategies of successful mid-level blogs. These blogs may not earn the millions that the A-listers earn but they still make a decent wage and their success is much easier to achieve.
But there's another reason why A-list blogs should not be your example. A-listers are all about getting a lot of raw traffic, so they cover a very wide range of topics. This lets them reach the most amount of people.
But if you try this tactic, you'll end up fighting a losing battle. See the A-list blogs have much more resources than you. They have more money, more staff, and better partnerships. They will cover your niche much better than you. If you copy them, you'll end up with a subpar copycat blog.
And here's the big question. Why would someone read your copycat blog when they could read the A-list blog?
Go Deeper Not Wider
Fortunately, with many bloggers copying the A-listers, there's a lot of opportunity for probloggers who choose to specialize and focus. Instead of focusing on all usual subjects in your niche, pick only 1-2 and really learn them well. In other words, go "deeper" instead of "wider".
For example, let's say you have an interest in video games. Instead of trying to cover every single video game like Joystiq, you decide to only write about Xbox games. You could even narrow that subject down. Maybe just do Xbox reviews. Or only blog about future Xbox games. Or just create Xbox strategy videos. You get the idea.
After some time, by focusing on a small topic area, you'll get enough experience to draw from that will help you generate truly unique valuable content. Quality goes down when you're juggling too many things but it goes up when you concentrate on a few things. You'll actually become an expert instead of a so-called expert that just spouts the same old advice that everyone's already heard.
Going deeper is better too because you can make more per visitor. You're delivering more value so you can charge more. You won't need a ton of traffic to make a decent living.
Performancing offers blog management services.