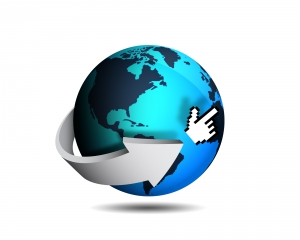 In the worlds of business and marketing, blogs can be an extremely valuable tool for both direct and indirect promotion.  However, it's not as simple as saying blogs are a form of online marketing, because they can be part of a traditional online marketing plan (including banner ads, video ads, and so on) or part of a social media marketing strategy or content marketing strategy.
But what is the difference between social media marketing and content marketing?  The truth is they overlap a lot, so the concepts can become even more confusing and overwhelming.  In order to understand how these two forms of online marketing compare and contrast, check out the explanations below.
Social Media Marketing
Social media marketing is defined as any form of direct or indirect marketing that promotes a business through the conversations and sharing which occur on the social web.  For example, Twitter updates, Facebook posts, forum posts, and comments published on blogs, videos, images, and so on are all social media marketing tactics.  Even the one-click sharing of links that happens across the social web is a form of social media marketing.
The primary objective of social media marketing is not only to start conversations and encourage sharing right now but also to keep those conversations and sharing related to your business going in order to indirectly promote your business well into the future.
Social media marketing also helps you directly market your business.  For example, you can post a discount code for purchases on your Twitter profile or announce a new product on your Facebook page.  Direct marketing tactics are used to motivate consumers to perform an action in the short-term as opposed to the long-term marketing objectives tied to ongoing conversations and sharing.
Social media marketing helps small business owners build brand awareness, create more entry points to their content and branded destinations across the web thanks to the power of the compounding effect of blogging and social media participation, and develop relationships with potential customers and online influencers around the world.
Content Marketing
Content marketing works both online and offline and includes any form of content created and shared for the purpose of directly or indirectly promoting a business.  The popularity of content marketing has grown significantly thanks to the widespread accessibility of online social media tools that enable anyone to publish amazing, shareworthy content.
For example, blog posts, online videos, press releases, articles, ebooks, and so on are all forms of content marketing that help to establish your expertise and add value to your target audience's lives.  In fact, content published for the purpose of indirect marketing might not even be related to a business but does help people, which means it can indirectly build a brand simply because that content aids in building consumer trust.  Furthermore, it might get shared and discussed!  That's where the power of content marketing comes from — adding value through the publishing and sharing of meaningful, useful content.
The best content marketing plans incorporate a variety of online and offline tactics that lead directly to social media marketing through sharing and conversations.  Bottom-line, content marketing allows small businesses to establish credibility, trust and loyalty because it helps people or interests them.
Therefore, content marketing and social media marketing should not operate in separate silos.  To be truly successful in promoting your blog, business, or brand via the social web, you need to integrate your content marketing and social media marketing activities.   Simply publishing a great blog post and forgetting about it won't help you.  Instead, you need to publish that amazing content and let the world know about it, consume it, and hopefully, talk about it and share it with their own audiences using the tools of social media so you to reach your goals.
Image: stock.xchng