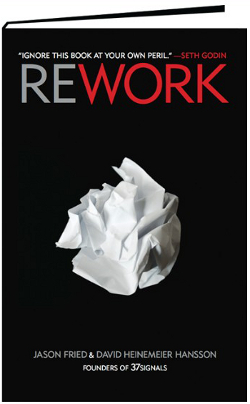 Rework is the new business book by Jason Fried and David Heinemeier Hansson, the executive team of 37signals.
I'm a big fan of their blog and Backpack, one of their products, so when I found out they were releasing a business book, I had to check it out.
The release date was yesterday so I went to my local Barnes & Noble, found the book, and read the whole thing there in two hours. Yes, the book is short compared to other business books but I liked it so much that I bought it for reference sake.
Even though the book is not a book about blogging, I think the book has many great tips for probloggers.
Basically, it's a manifesto for doing work differently. Written from their experience, Jason and David blow up many of the workplace norms you find today in most companies, big and small. For example, here's a look at some of their chapter titles: Learning from mistakes is overrated, Planning is guessing, Meetings are toxic, and Underdo your competition. Also, they claim that workaholism is a bad idea.
As you can tell, Rework is not the typical business book that reminds people of boring college classes and stuffy professors.
Jason and David have figured out how to run a wildly successful business in the new media, internet-based world we live in without the negative aspects that people normally think of like long hours, ineffective bureaucracy, and cutthroat tactics. Their company, 37signals, has only 16 employees. But even though the company is not big, they have a big impact with over 3 million people using their products.
The employees are very autonomous. They can work at their own schedule and can choose to work at home. In fact, half of their employees don't even live in the same city as the company office.
Here's a telling quote from Jason in Inc. Magazine:
Employees come to the office if and when they feel like it, or else they work from home. I don't believe in the 40-hour workweek, so we cut all that BS about being somewhere for a certain number of hours. I have no idea how many hours my employees work — I just know they get the work done.
Therefore, I think Jason and David's experience of running a business is great for the average problogger. You don't need the typical business book that caters to offline businesses and big corporations.
Also, 37signals understands the power of blogging. As a small business, they don't have a sales team or a marketing department. In fact, most of their business comes from their blog. That's how I found out about them. Their blog, Signal vs. Noise, is very popular with over 100k RSS subscribers.
The book can help you get into the business mindset, which is the mindset you need to be in to really make money – not the blogging mindset.  A blog is a great marketing channel but you need a strong business as a foundation to have the best chance of quitting your day job.
There will be sections in the book that may not apply to your situation right now. For example, it has some essays about hiring employees but most bloggers I know are not in a position to hire. Still, the other sections are well worth the price of the book and who knows, in the future, you may want to hire employees or freelancers for your blog.
Learn more about Rework.
Performancing offers blog management services.