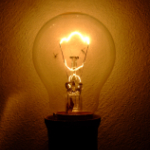 Jason Fried from 37signals talks about sustaining inspiration in this speech at around the 19:40 mark.
He suggests that inspiration is perishable. He contrasts the lifespan between the actual idea and the inspiration for the idea. The idea lasts forever but the inspiration can go away.
He likens inspiration to a perishable good like milk or fruit. Like these goods, inspiration has an expiration date and it doesn't stay fresh very long.
He advises that if you're inspired about something, if you motivated to do something, you need to take action as soon as possible. If you wait to do it later, you won't be as motivated. Every day you don't take action, your inspiration starts to rot and go away.
Also, you'll have the most creative energy during that initial spark of inspiration.
Blogging and Inspiration
In blogging, I've found Jason's theory to be true. I have many ideas for blog posts that I came up with in the past. At the time of idea conception, I was excited about the ideas. However, a couple weeks went by and I still hadn't turned those ideas into blog posts. Now when I think of the ideas, I'm not excited about them and I wonder what ever happened to my inspiration.
On the other hand, if I come up with a good idea and then work on the post right away, writing is much easier and I have a good amount of creative energy and motivation to complete the post. This is why it's a good idea to read only when you have time to act on it.
You'll be more productive and your content will be better quality if you're inspired and motivated rather than trying to "force out" a post after the inspiration has gone away.
Over to You
How do you sustain inspiration? Have you ever experienced "rotting inspiration"?
Performancing offers blog management services.