If there's a king of digital marketing, Neil Patel wears the crown. He's constantly setting trends and pioneering strategies as one of the internet's most famous marketers.
And if there's one field he's known best for, it's SEO.
Search engine optimization is a hard game to master, too. Google is constantly changing and that means what works changes just as fast.
That's why we set out to review Neil Patel's SEO for determining how he crushes the SERPs. This study primarily used two tools–SEMrush and Ubersuggest–so we could reference multiple sources of data. It also helped us discover the strong points of each tool for future use.
Here are some of the main findings we discovered along with how you can use them yourself.
Bounce rate
The bounce rate of a website is calculated based on the number of users who visit without navigating to another page. It's important to optimize for both SEO and the user experience of a website.
Neil Patel's website has a bounce rate of 49.27% according to SEMrush, for instance.

That means slightly more than half of the users who visit his website read other content he's published. While every industry niche and industry has different bounce rate averages, his is extremely good for a blog.
But, how did he achieve such a great number? We believe the first is through proper internal linking as you can see with the orange hyperlinks in one of his blog posts here: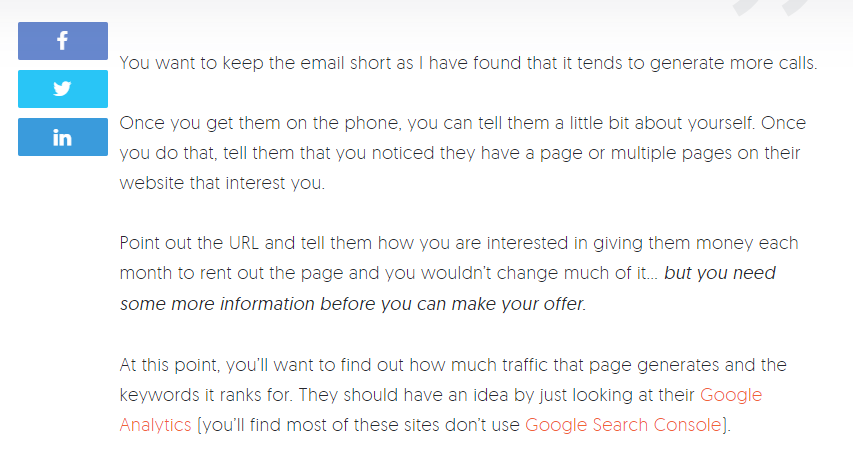 Neil makes sure to link to other useful and relevant blog posts which keeps users on his website for longer and lowers his bounce rate. While Ubersuggest is constantly being updated with new features, it doesn't analyze the bounce rate of a website at this time. This is SEMrush's strength.
That brings us to our next point.
Average time spent on page
How long users spend on your website is a signal to Google of the usability and relevance of its content. According to SEMrush, Neil Patel has an impressive average time of 9 minutes and 32 seconds.

One of the ways Neil Patel is able to achieve this is through long-form content. His articles range from 1,500-3,000 words on average, for example.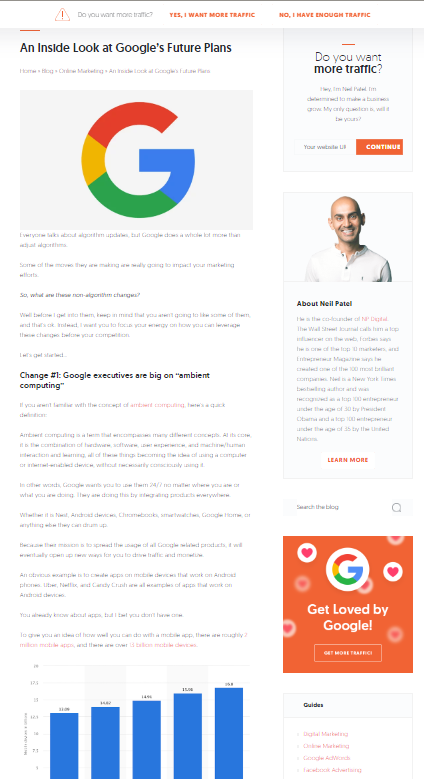 Long-form content keeps users on the website for longer than shorter content that is only a few hundred words. Additionally, Neil makes his content very practical with step-by-step instructions and use-cases for tools.
This keeps users on the website for longer as they will follow the steps Neil demonstrates.
Lastly, Neil uses a very unique tone of voice. His casual, friendly, yet authoritative style of writing may be one of the reasons for the high average time spent on page. This makes his content appealing to a larger audience while being easier and more entertaining to consume.
Neil Patel's SEO timeline
If you perform SEO, you've probably asked yourself "How long is this going to take to have an ROI?" That's why we performed a review of Neil Patel's organic history.
As you can see with SEMrush's traffic trend chart, the Neil Patel digital marketing blog started in approximately 2012:

He began publishing content on a regular basis in 2015 as a way to grow his business. It steadily increased along with two big jumps in 2017 and 2018 where it gradually continues to rise since.
Overall, his SEO strategy took approximately two to three years to begin hitting a critical mass.
Ubersuggest displayed similar information, claiming that Neil's blog received 2.4 million organic monthly visitors over the last 12 months.

Overall, the two tools helped us conclude an average time for SEO to pay off, but SEMrush offered a longer search history.
The best traffic sources based on Neil's web analytics
Does Neil Patel receive all of his traffic from search engines? We decided to find out first-hand.
SEMrush's traffic source review shows that 49.90% of his traffic is generated from organic search.

This is followed by direct traffic at 42.23%, referral at 7.08%, and social media at 0.79%. Keep in mind that direct traffic is typically when a user enters the URL of a website directly in their browser.
While Ubersuggest only focuses on search metrics, we did find that the content which receives the most social shares:
This information leads us to the hypothesis that Facebook and Pinterest may be two of the most effective channels Neil Patel uses to drive social traffic. Nonetheless, organic search remains his largest traffic source.
International search term ranking
Neil Patel is always ahead of the game. So, it was no surprise that we discovered he actively translates his content into different languages. This allows his website to rank on different search engines, such as the Indian and United Kingdom versions of Google.
According to Ubersuggest, he ranks for over 440,000 Indian keywords.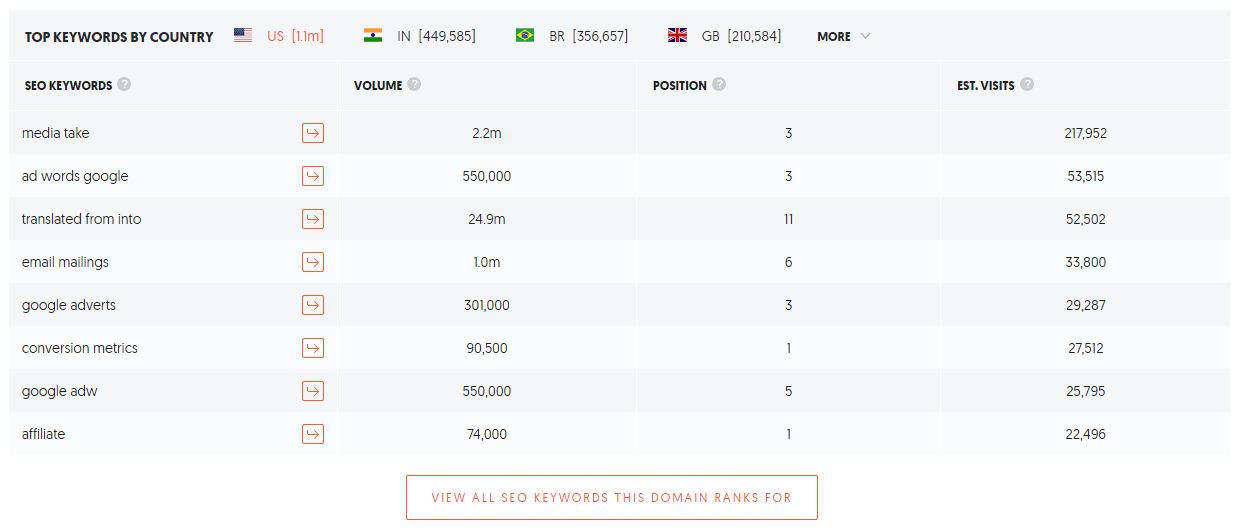 This is followed by over 350,000 Brazilian and 210,000 Great Britain search terms.
SEMrush, on the other hand, provided drastically lower numbers; although still displaying Neil Patel's website ranking for international keywords.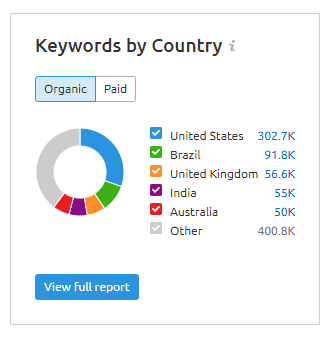 You can begin ranking for international keywords by using a translation service like Translated.com They have over 205,000 professional translators that will translate your blog content into any language you wish.
Choose which languages you need translated along with the word count of the article using their free quote calculator.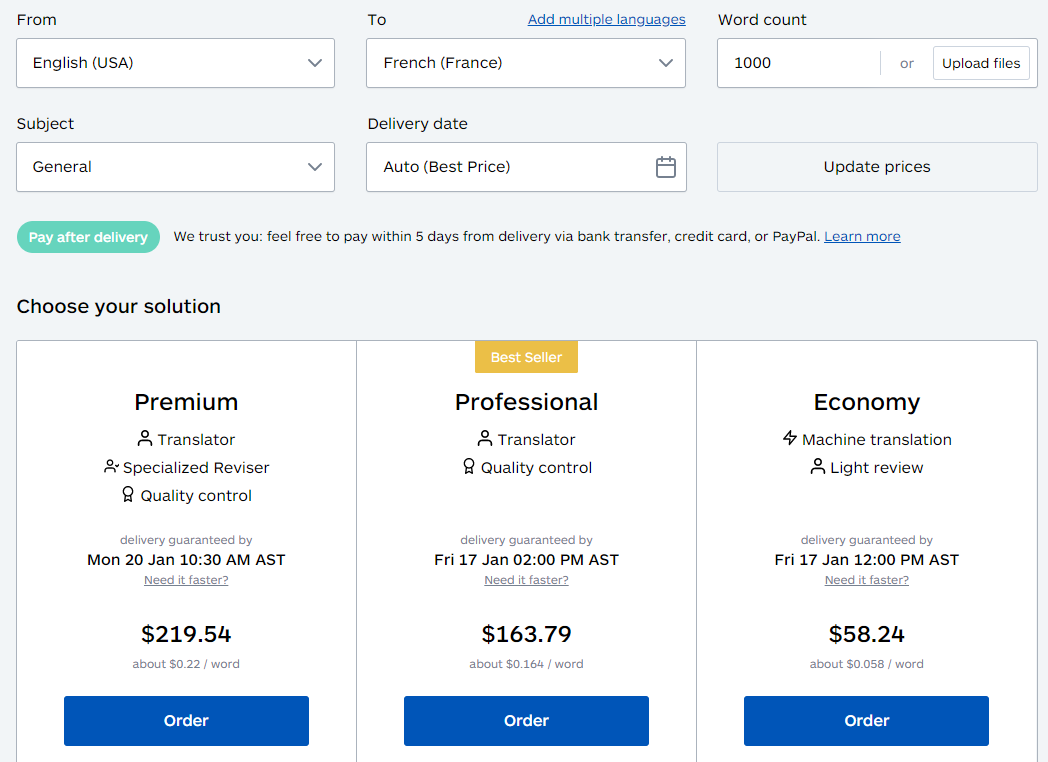 Click the "Order" button on the package you wish to purchase.
Then, fill out the order form and upload the content you need translated.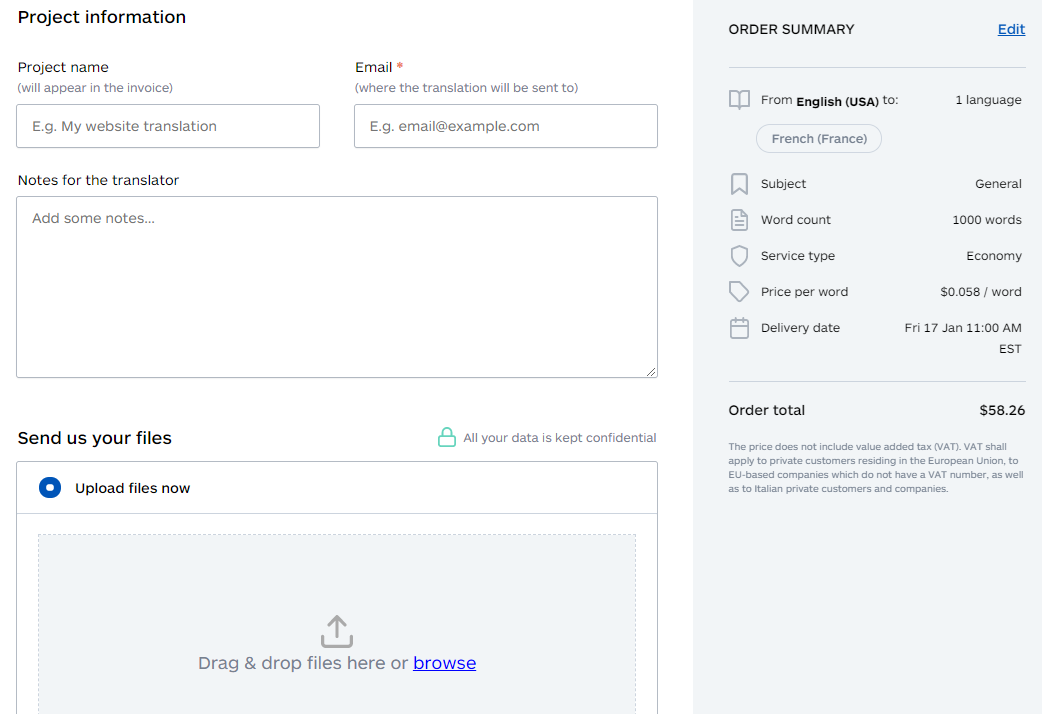 A translator will begin porting your blog post into the chosen language once the order is sent.
Conclusion
Nobody is better at SEO than Neil Patel. We were able to review his search performance thanks to Ubersuggest and SEMrush. This allowed us to take an unbiased approach while also determining the strong points of each tool.
That brings us to the question: should you use Ubersuggest? Absolutely! It's effective for keyword research, tracking rankings, discovering content ideas, and determining the SEO health of any website.
SEMrush, on the other hand, excelled at analyzing traffic sources and recording website metrics like bounce rate.
Some of the main takeaways from our research today include:
A low bounce rate can be achieved through internal linking and using calls to action for visiting other pages.
Average time spent on page can be increased through long-form content, practical information, and a unique style of writing.
SEO can take months to years to have a significant impact on a website's performance.
The best traffic sources may be organic search followed by social networks.
Translating content into other languages helps a business rank for internal keywords, driving further traffic from search engines.