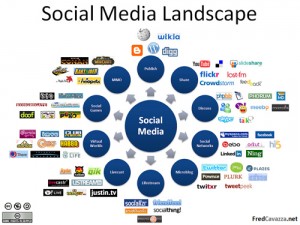 In today's cutthroat business world, it is not easy to stand yourself. Getting success in business is highly competitive today but the new social media applications are making it simpler to get in touch with the potential clientele and to expand the local business globally. In this editorial we will discuss about the ways to maximize the business opportunities using the social media.
Social media is growing exponentially and has almost revolutionized the mode or promotion and advertising. It has now become the most wonderful mode of expression between business to costumers as well as business to business. The very popular social media sites such as twitter, facebook, MySpace, LinkedIn and Digg have engaged more than 300 million business people. However, not all of these know how to exactly use the social media to promote the business worldwide through these amazing social networking websites. On the other hand some are doing really a fantastic job at using social media and have taken their business to a new horizon.
There are endless options of business promotion available, what makes the difference is the right choice of the option. Identifying the best option is must to touch the horizons. Before starting with the social media promotion the goals and targets must be clearly established and identified. Using the right mix of social media is the next priority to attain the success in social media marketing. Commitment and dedication comes next.
The social media is effective in all sectors of business, whether you are selling some goods, providing services or running an NGO. Moreover under any circumstances if you are unable to use the social media marketing in an appropriate way it is better to hire a professional to get the thing on right track.
Social Media Manager is the person who can help you out in this context.

Who actually is a social media manager?
An advisor who keeps an eye on the networking tools of any business promotion and implements those tools in a right way to promote a company is the Social Media Manager. Social media manager could work as an organization or even as an individual. Hiring a social media manager though would be a foreign concept for some, but trust me; this is what you need to promote your business worldwide.
What is the work social media manager do?
The social media manager handles the advertising, marketing and networking of a company. The role of a social media manager basically includes creating a social profile of your company and promoting it through the social networking websites. They also keep updating your company profile on a regular basis to include the latest offers, discounts, products and much more.
How will hiring a social media manager help your business grow-
A social media manager first of all takes the advertising work from your plate and be there for social profiling and networking.
He is the one who expands the market capabilities and reach to the potential customer globally.
He promotes your business and also maintains the reputation of your company by being in touch with the potential customers regularly on your behalf.
A social media manager designs the banners, brochures and other promotional material used to market your business.
Social media manager implements the social media techniques and tools within your company and business such as the facebook likes, Google + votes, tweets, maintaining twitter followers, stumbles etc.
If your company owns a website, it is the duty of the social media manager to promote it and to bring more and more potential traffic to your company website.
He maintains the official blog of your company, with regular updates about your business organization. Blogging is a very useful social media tool and makes the customer feel free to get in touch with the company officials.
One very important task that a social media manager does is to take the feedbacks and complaints of your customer and resolve them by consulting the relevant department. This makes customers trust your company more than any other.
In all, hiring a social media manager means starting up with a tool to generate more revenue for the company. If your social media managers works well the wages you spend on him/her will be returned tenfold.
The degree of skills and knowhow that a social media manager possesses may however vary from person to person as their parameters of job are not predefined. Thus one must employ an experienced, skillful and dedicated social media manager.
How to select the right Social Media Manager for your company?
Hiring a competent and capable social media manager is a great start. Below are a few tips to keep in mind while selecting the social media manager for your company-
Test out their prior projects- A competent social media manager is the one who proudly show their previous work. Make sure that he can illustrate how to attain the company ROI goals using the social media strategy.
Make sure you hire an experienced one- More they work, more they learn. A social media manager with broad experience will be the right choice for your company. He must also boast the traditional marketing experience.
Strong social influence is the key- Make sure that the contender you are hiring has a strong social influence. If he donít have good ranking at social influence, he may not be the right person for your business.
Social grace is must- social media manager has to connect with the society and thus he must be socially graceful. Interacting with customers and handling their problem gracefully must be the main quality of the man you are employing as your social media manager.
Get smart and create a smart team who can manage your social media promotion digitally and do not rely just on the facebook likes to drive your sales. A team working together hand-in-hand to boost your in-house promotion is what you and your business actually need.
Bill is a geek from Canada, father of two beautiful daughters, loves to click photos in free time. Other than that, you will find him looking for temp staffing services.