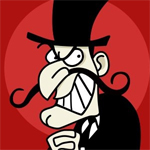 Doing business online does not only include taking the steps in making your business and/or blog profitable, it also entails assuring that the reputation that you portray, especially to millions of internet users, is credible. Putting up a business online easy, especially if the owner thinks that all it takes is a good and updated website. The hard part though, is keeping it free from negative reviews and nasty blog comments by random people. And unfortunately, not everyone is aware that this can be prevented. Consequently, the image of their business is compromised.
The online world is practically controlled by its users. And business-wise, this could mean that if an entrepreneur doesn't have a control over his branding, then his online competitors are free to control it. The robust business competition in the World Wide Web can be easy to deal with if the game is fair. Problem is, aggressive business competitors are willing to go out of their way just to ruin their opponents. Bloggers are generally a nice lot, but there's a bad apple in just about every cart. And if one can effortlessly promote his or her website through positive posts, doing the opposite thing, which is to publish and share defamatory articles about something, is just as effortless.
Getting negative feedback is actually okay because they serve as constructive criticisms which can be used to improve the quality of products and services. What's not okay is when these negative feedbacks are not true and starts to affect the reputation of the business.
So how does an online business owner keep an eye on the possibility of encountering such situations to prevent it from causing further damage?
Refer to search engines
It is common knowledge that when people are using search engines, majority of them don't look beyond the first page, except of course, if they're looking for something specific and can't find it there. A business owner who wants to make sure that his visibility on the web is within the awareness of his target audience, the first and most obvious step that needs to be undertaken is for him to search his own business keyword. Search engine results pages will show every available information needed: from who the competitors are down to what people are saying about the business. And what the business owner should be looking for is not just his ranking on the SERP's, but the feedbacks of the people as well.
Bad reviews especially those that tag a certain business as a scam is probably the most difficult challenge any business can encounter. This is beyond the owner's control, unless of course the business owner is guilty of it. Otherwise, these are the ones that need to be highly prioritized. A low ranking with positive reviews is alright; a high position on the results pages pointing to a false negative review needs to be addressed immediately.
Applying DIY or Professional Reputation ManagementIf, after referring to search engines, a business owner finds that his company is not among the top best results or comes with a negative review or dubious feedback that appear to have been made just to tarnish the reputation of a business, it's time to develop an online reputation management strategy. Positive and relevant posts should be associated with the business that is being managed. Thus, it is advisable that one creates posts such as press releases that would reverse the current negative standing.
There are many reputation management companies that are equipped with knowledge and tools needed to bring negative reviews down the SERP's and increase the positive rankings of any business. It is important to look for a credible company as reputation managers themselves are expected to be free from negative issues.
Every online seller should understand that most of the people who refer to search engines to find what they need will depend on what other online users say about something. Internet users trust the web so much that they believe everything, if not most, that they see online. Although selling online applies the same word-of-mouth marketing strategy, chances are there can be more negative hearsay about a product than there are positive reviews. This could be worse if the brand name is on the line.