Want to get extra page views on your blog and encourage visitors to read some of your older posts?  If you use WordPress.org, there are a variety of related posts plug-ins that can help you automatically display links to related posts at the end of each of your blog posts (I like YARPP – Yet Another Related Posts Plugin).
Even if you don't use WordPress, there is an option for you!  And if you use WordPress but would love to show images with your related posts link, then you should keep reading, too.
LinkWithin is a free (and currently ad-free) widget that you can configure for your blog in minutes.  It works on WordPress, Blogger, and TypePad blogs.  Just visit LinkWithin.com, enter your email address, blog URL, blogging platform, and the number of stories you want to show in your widget into the form provided on the LinkWithin home page.  Check the box in the form if your blog uses light text on a dark background, and click on the Get Widget button to get the instructions and code to copy into your blog to display related posts with images at the end of each of your posts.  It's that easy!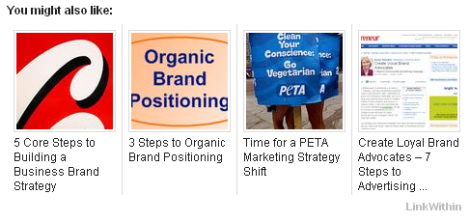 The image above shows you what related posts displayed using LinkWithin look like at the end of a WordPress blog post.
Getting additional page views can help you in a variety of ways, particularly if you want to make more money from blog advertising.  Many advertisers are interested in learning how many page views your blog gets per month, so they can compare apples to apples when evaluating advertising opportunities between different sites.  The more page views your blog gets, the more you can realistically charge and expect to receive for ad space sold on your blog.  Also, if you participate in impression-based advertising programs (where you're paid based on the number of times ads are displayed), then increasing page views on your blog can boost your earning potential from those impression-based ads.
Furthermore, adding links to related posts helps your readers stay on your blog longer, get a better idea of what your blog offers, and develop a greater interest in you and your blog.
LinkWithin uses your blog post titles, tags and content to find and display related posts.  Don't worry if you don't use images in all of your posts.  LinkWithin displays text links only when the majority of the related links discovered for a specific post don't have images attached to them.
Bottom-line, LinkWithin is free, easy to install, and easy to remove if you don't like it.  Why not give it a try and see if it boosts page views on your blog?
What do you think?  Do you use LinkWithin or another plugin or tool to display related posts on your blog?  Leave a comment and share your preference!