I sat in a series of sessions of a co-professor who projected stuff from the Authenticity Book for his marketing class. Part of it had to do with understanding new media, the Internet — that sort of stuff, really. So I borrowed it. And it's been a "formula" I use to introduce or summarize "new media" from a different perspective. Let me share this.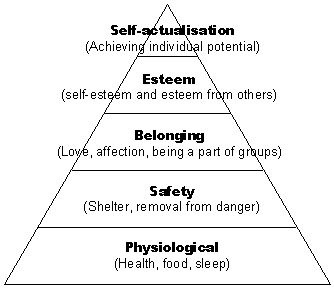 You may be familiar with Maslow's hierarchy of needs. Before aiming for higher and more profound functions of self actualization, the basic needs need (food, clothing, shelter) to be addressed first. Today however, with the advancements of technology and the "fast paced lifestyle" seem to push people to want to be "accepted" first in order to function properly. An argument here is that every human being ideally needs to belong to a family. With new media, it becomes easier for individuals of similar niches to find one another: Star Wars forums, Macintosh zealots, Trekkies, Trekkers, food bloggers … the list goes on and on. There seems to be a community for everything. Seth Godin refers to this social structure as "Tribes."
With that mindset, it becomes more apparent how communities work, and how authentic messages can be distinguished from those that are canned from press releases or below the line gimmicks. Authenticity is still key, and this is where the machinations of A-listers, authority figures, conversion and credibility come along. Forums, blogs, microblogs … these are all manifestations of this.
If you're a marketer, do you believe you are treading on sacrosanct grounds when you wish to involve communities?