Have you ever subscribed to your own blog's feed via email to see what those messages that your email subscribers receive from you actually look like?  Do you know what time of day those email messages are sent?  Do you know what the subscription confirmation message says that subscribers receive after they subscribe via email to your blog?
Go ahead … subscribe to your feed via email and see what happens.  Chances are high that you'll want to make some changes.
If your feed is managed through FeedBurner, then it will take you less than five minutes to change your subscription email messages from boring or hard to read to visually appealing.  Here are the essential steps to giving your email subscription messages the makeover they probably need.
1. Make your first impression a memorable one.
Log into your FeedBurner account and navigate to your blog's feed settings.  Click on the Publicize tab, and then click on the Communication Preferences link in the left menu under the Email Subscriptions heading.  This opens the Email Subscriptions-Communications Preferences page shown in the figure below.  This is where you configure the settings for the confirmation email that new email subscribers receive to confirm that they do want to subscribe to your blog's feed via email.
Take a minute to revise the Email "From" Address (the address recipients see in their email inboxes as the Sender), the Confirmation Email Subject (the subject line of the message that recipients see in their email inboxes), and the Confirmation Email Body (the content of the email message).  Personalize the message, so recipients remember who you are and why they clicked on the Subscribe via Email link in the first place.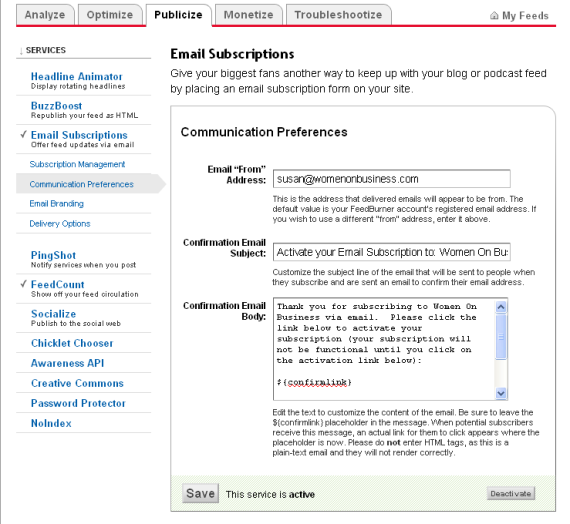 2. Design your email subscription messages so they look good.
Next, it's important to click on the Email Branding link under the Email Subscriptions heading in the left menu to open the Email Subscriptions-Email Branding page shown below.  Here you can change the title of the actual feed update messages that subscribers receive in their email in boxes (you can even make the title of the email message match the title of your most recent blog post included in the feed email by clicking on and selecting the Hot Tip check box.
You can also include the URL for a logo that you want to include in your feed emails (as long as the image is already hosted elsewhere online), and you can make changes to the typeface, font size, and colors used in your email subscription messages.  All of your changes can be viewed by scrolling down the page where they are visible in a special section called HTML Preview Email.
Of course, if you're already subscribed to your own blog by email, you'll also be able to see how your edits look to other subscribers next time your blog is updated and feed messages are sent.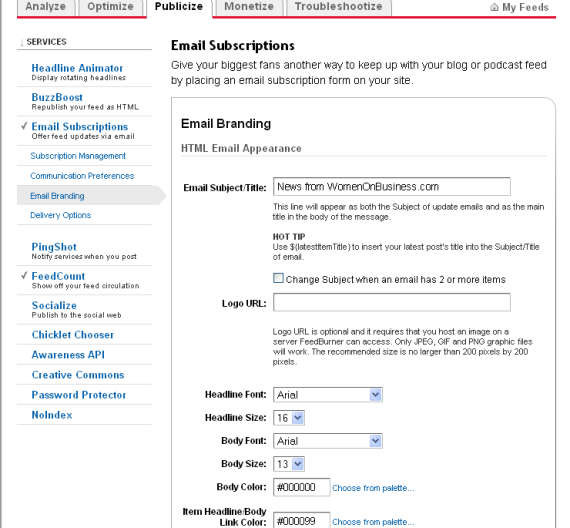 3. Select a delivery time.
Research shows that blog email subscriptions which are emailed in the morning get more click-throughs than those emailed in the middle of the night.  Of course, time zones can affect your statistics, but scheduling your blog email subscription updates to go out between the hours of 10:00 a.m. and 1:00 p.m. Eastern time is thought by many experts to be the best choice.
Therefore, your last step in making your blog email subscriptions even better is to click on the Delivery Options link under the Email Subscriptions section in your FeedBurner account.  Use the drop-down menus to select the time zone and specific two-hour window when you want your blog's automated email subscription messages to be delivered anytime you publish new content on your blog.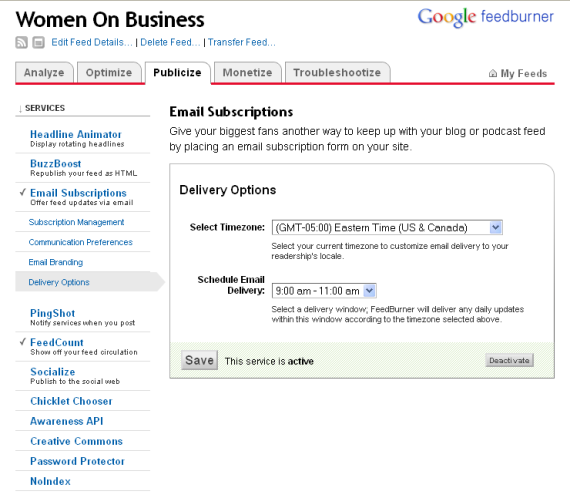 That's all there is to it.  In fact, it probably took you longer to read these instructions than it will take you to make these changes to your own FeedBurner email subscription settings!