Woopra is a new startup that is doing something quite impressive with typical website analytics. While there is only so much more information that can be gathered with current analytics platforms, one of the most popular ways to improve is by enhancing the interface and display of data. Currently in beta, Woopra does exactly that.
My first impressions lead me to believe it will be an impressive application, and it is just so much fun to know exactly what visitors are doing instantly. The signup process was pretty easy, but if you decide to join, you will have to wait to be approved. After getting everything squared off, I installed a few lines of code to the footer of my site, and I was ready to go.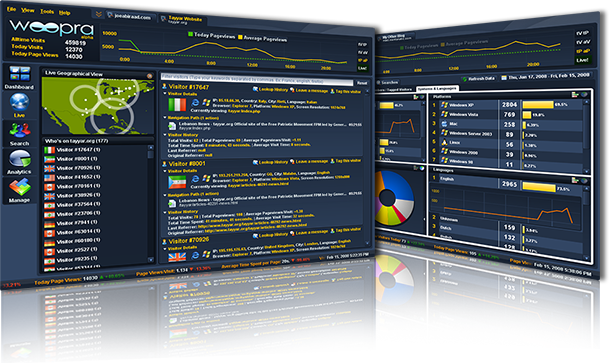 Image Credit: Woopra
Most impressive is the desktop application that is available for Windows, Mac and Linux. It is the command center of your site analysis. As a matter of fact, after downloading and starting the desktop application for the very first time, the movie War Games instantly came to my mind. It is very nicely done, and it has a very futuristic theme to it. I do, however, think that the interface would do well with the ability to arrange individual sections to your own liking, but it is only a beta release. Overall, I was very impressed.
Now, there are a few catches if you decide to use Woopra: if you are looking for a web-based solution, you will likely want to avoid Woopra as the downloadable application is where the fun is at; Woopra is very likely (as it states on their website) to be moving to a pay model after the product leaves beta, and this means that those who want the best features or have many visitors are going to pay a price for it; and finally, during the beta period (which is right now) you can only have one site registered with the service.
Woopra might never exceed the popularity of a service like Google Analytics or even Performancing Metrics, but it certainly is a fascinating experience with the very short experience I have had with it.
If you want to see what Woopra looks like, you should check out this video by Cali Lewis of Geebrief.tv when she discusses Woopra with Neal Campbell:
If you think Woopra looks interesting, then you will want to stick around as I will be reviewing Woopra very soon while I put it through the paces.