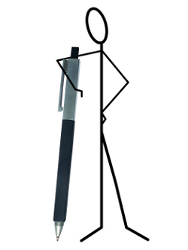 Image by nkzs
One of the best ways to scale your problogging business is to hire competent writers. With other writers on your blog, you'll be able to generate more traffic and revenue.
But it can be difficult to find writers you can trust that will keep the quality high on your blog. There are many writers out there for hire but only a few of them will be a good fit for your blog. If you get the wrong kind of writers, you could waste your time and have a lot of headaches dealing with them. Plus, your brand could suffer.
Below are some places where you might look for a writer to hire. I'll share my thoughts on each place.
Job Boards
Job boards are the first places many bloggers look when they want to add a writer to their blog. It could be a general job board like Craigslist, a more specific one for online workers like Elance, or one geared toward bloggers like the board on this site, BloggingPro, and ProBlogger.
In my opinion, most of the writers at the general and online worker job boards are not what you're looking for. I've used these places to find writers for one-of articles like linkbait but I haven't found success with finding good staff bloggers.
In my experience, the writers at these places tend to be generalists that write about many topics. As such, they probably won't have a lot of knowledge and experience in your niche. And since they write about different topics for different clients, they typically have not developed their own unique tone and personality in their writing. Their content tends to be boring and dry, like something you would read on a college textbook.
Of course, this is not what you want on a blog. Blogs work best when they are personable. As the writers share relevant experiences and the readers get to know them, the blog becomes a trusted authority site.
On the other hand, the job boards that cater to bloggers are great places to find competent writers. Several of my friends have found great writers on these boards. Many of the writers that scour the boards have a lot of experience blogging. They understand the blogging culture and have developed their own unique write style.
However, if you're in a smaller non-mainstream niche with fewer writers, you may not find a suitable candidate from the blogging job boards. If that's the case, I recommend looking within your niche's blogosphere.
Bloggers in Your Niche
I think the best place to look for competent writers is the blogs in your niche especially if you're in a smaller niche that may not really know about the blogging job boards. One of the benefits of examining the blogs in your niche is that you can have a good idea of what you'll get from them if you hire them. You can see which bloggers create similar content and target a similar audience as you. These blogger are prime candidates for your writing position.
One blogger in my niche started a blog just a couple months ago. With her hard work, quality content, and regular posting schedule, she quickly made a name for herself in the niche. After a couple weeks, two established blogs hired her. She's flourished in her new positions and helped those two blogs grow their audience. Now that my blog has a solid income stream, I'll probably send her a job offer some time this month.
The top blogs tend to hire other bloggers whenever they want to expand. Copyblogger is a good example. Brian Clark is the founder but he brought on Sonia Simone, who has a great blog at Remarkable Communication. She writes posts and helps edit the site. Her work has helped Copyblogger grow and she is definitely now a well-known part of the Copyblogger brand.
Other Places
Forums are another place to consider if you're looking for a writer. This is similar to check out your blogosphere since forum members are creating a lot of content. While visiting a forum, you could come across members that regularly leave insightful forum posts. These members may be open to writing for you. Also, you may discover new blogs by browsing through a forum.
The comment section is a place where I did not expect to find a prospective writer. I just made an offer to an active commenter on my blog. Along with being a regular in the comment section, he occassionally leaves long comments that could easily be repurposed into solid blog posts. He has a great personality and I find his comments helpful. Other commenters also like what he has written and they interact with him in a positive way.
Over to You
Where else would you look to find writers?
Performancing offers blog management services.