Having 404 pages is a perfectly normal part of a website and Google expects this. However, how you handle 404 pages and the visitors that land on them is important if you want to keep these people on your site.
What Are All The Different HTTP Status Codes?
Here we are mainly focusing on 404 status codes but it's important to know what the other major codes mean when talking about 404s. You can see an exhaustive list of codes here at W3.org but really there are just a handful of main ones that you need to know and these are visualized in this infographic from the guys at Moz: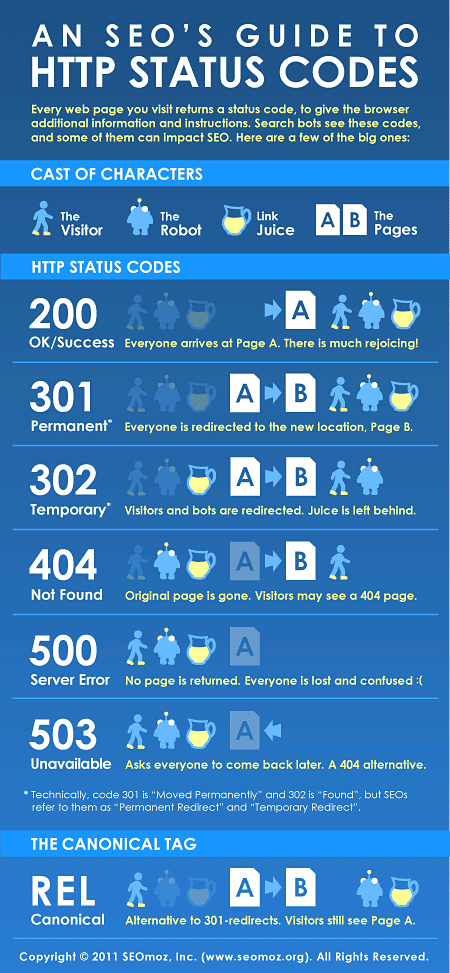 So I Should Just Redirect 404s Elsewhere Right?
Not really, it depends on various factors such as; how much traffic is there to that page, what are people who land on that page looking for, and are their back-links and SEO juice pointing to it?
If you have a 404 page that is getting significant amounts of traffic then you might want to look and see how they are getting to this page and what the source is. If its from a source you can control such as somewhere else on your site or an advertisement then you should look at making sure these visitors end up in the right place on your site and not a 404 page.
If they came from another site linking to an expired page then it would be best to redirect them to the either the new page or one closest to what the old page was about. However redirecting isn't always the answer, for example simply redirecting a user to your homepage might not always be the best action as if they don't see what they came in looking for within a few seconds they will go back to the search results. Sometimes keeping them on the 404 page with a short note to say sorry and then offering other options such as pages similar to what they were looking for, category pages and/or the homepage lets the user know that even though they've landed in the wrong place they might be able to find what they need elsewhere on your site.
Finally, you need to look at any backlinks pointing to this 404 page. If there are significant or highly valuable links pointing to one of these pages (and assuming you can't get the linking source to change the link) then you may want to setup a 301 redirect so that the valuable link juice flows through to either your homepage or other part of your site that you want to rank.
Going back to the point about 404 pages that are receiving traffic, if you do intend to keep the user engaged on the site so that they hopefully click through to another part of your website, then setting up a custom 404 page is a good way to go about it. Google advises on doing the following for these custom 404 pages
Inform the user that what they were looking for is not there and that they are on a 404
Keep the look and feel of the page the same as the rest of the site
Use links to the most popular parts of your site
Make sure the page is returning an actual 404 status code as you don't want Google attempting to index it
404notfound.fr has a huge collection of custom 404 pages where you can get plenty of inspiration for making your own.