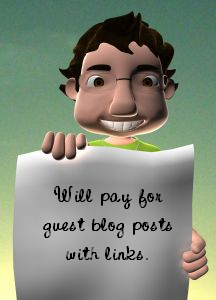 Getting more incoming links to your blog or website from influential and popular sites is a great way to boost your search engine rankings.  That's one of the reasons that guest blogging is popular.  Not only does it help the guest blogger get in front of a wider audience, but it also gives the guest blogger more incoming links to his own blog (most guest bloggers include a bio with a link to their website or blog).
The Ugly Side of Guest Blogging
However, there is a growing trend online where both legitimate and questionable companies pay people to craft "guest blog posts" which those writers blindly submit to websites and blogs in an effort to build incoming links for a company.  Whether or not the writer knows the actual purpose of the guest post in terms of link-building is less important than realizing a company is paying someone to submit guest posts using specific keyword phrase links within those posts.
Recognizing Guest Blog Post Spam
Sometimes these posts are actually relevant to the blog's audience to which they are submitted.  Other times they are not relevant at all.  It's the relevant submissions that can be harder to detect and weed out.  For example, I get guest post submissions on my various blogs frequently and often keyword phrases such as "online colleges" or "payday loans" or "credit card processing" are found in these posts along with no writer bio or a very brief writer bio.  These types of guest post submissions immediately raise a red flag and get sent to the trash.
You'll also get requests that actually reference your blog saying something like, "I've been reading your blog and really like what you have to say."  They might even be more specific and include a link to a specific post saying how great it was.  In the end though, you're likely to find one of those two red flags mentioned above (the very specific yet somewhat random keyword phrase links and the nonexistent or extremely brief writer bio).
Tackling Guest Blog Spam
Remember, it's your blog and if you find a guest post submission questionable, you don't have to publish it.  Another option is to include the HTML NoFollow tag in any questionable links.  The site could still get traffic from click-throughs, but the incoming link won't be counted by search engines like Google when they rank search results.  Most importantly, follow the links in guest posts submitted to your blog to ensure they lead your audience to legitimate sites before you publish those posts.  The last thing you want to do is upset your loyal audience and tarnish your brand image by leading your audience to spam sites.
Finally, it's a good idea to publish some guidelines for guest post submissions and actual post entries.  While most of the spammers won't even bother to look at these guidelines, it can help to reduce the number of submissions that you would never publish.  It also protects you by warning people who submit guest posts that you reserve the right to approve, decline or edit any and all guest post submissions without notice.
Is there a type of guest blog post submission that you get frequently which is clearly spam or spammish?  Leave a comment and share your experience!
Image: stock.xchng