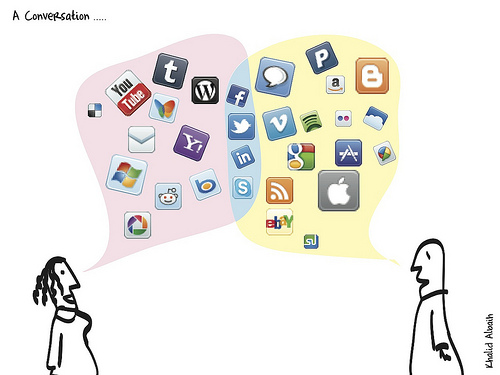 Social media and all of the noise these sites create can take up a lot of your time if you are managing a social network, and if you are keeping tabs on multiple networks, this gets even more difficult. The hardest part is finding important conversations and vital comments that require action among all of the noise and other junk clogging up social sites.
A great way to help manage these accounts is through a social media dashboard. The dashboard isn't another network, as some tend to think, but it is a tool to help you get and stay organized, productive, and efficient.
A social media dashboard can be a fantastic tool for day to day social network use that can help to make more meaningful connections and to engage more fans and followers. Instead of having to hop from network to network to keep up on all the conversations, you can access them all, easily and conveniently from a single location. These can be used to monitor your presence on sites like Twitter, Facebook, LinkedIn, Google +, and more.
Beyond helping to make you more efficient and organized, social media dashboards offer many other helpful features. These services allow you to schedule posts in advance, track other's profiles, gather metrics, and more. The way social media dashboards help probably appeals to you, and the following top 10 ways to create a social media dashboard should help.
1.) Fire up a feed.
Using RSS, you should set up a feed in a blog aggregator such as Google Reader. This will let you see new information coming in from blogs and websites. Not the most efficient at monitoring Facebook, Twitter, and other networks, a feed will help you keep tabs on other social media, such as blogs. It can also help you keep tabs on news and other information you may want to pass along to your fans and followers.
2.) Get savvy with search.
You can get closer to building your own social media dashboard by utilizing Twitter's powerful search capabilities. This network can be a great tool, but with the amount of extra noise on this site, it can be extra hard to find what you are looking for. Doing an advanced Twitter search and saving it can help you to find exactly what you are looking for. The Samepoint search engine can help you do the same thing, but it will do it across different social sites. Depending on what you are looking for from your dashboard, this functionality may be more than enough.
3.) Work wonders with WordPress.
WordPress is an open source blogging platform, but you can do much more with it than just blog. Utilizing WordPress, and the plugins and widgets available, you can create your own fully customized social media dashboard. Beyond the tools you can get for WordPress, some CSS tweaks and a bit of coding can help make this into a more comprehensive tool. When you are all done, if your resulting tool is good enough, you might be able to share it with others.
4.) Fall in love with lists.
Twitter, Facebook, Google +, and many other social sites let you group your friends, followers, fans, or the people you follow into lists or other arrays. This helps to control information because you will be able to only hear from those who you want to communicate with. At the same time, you can make it so that only certain groups get particular communications from you as well.
6.) Start from scratch.
If you know HTML, PHP, or any programming language, you can probably whip up a pretty sweet dashboard for yourself. It may not be as comprehensive as the more formal and established social media dashboard web apps that will be discussed soon unless you are a top professional, but they could very well help you keep yourself and your social media more organized. As with using WordPress, if it's good enough, you might even be able to share it with others and make a bit of money.
6.) Know Netvibes.
Netvibes could become your social media dashboard, and since it has already been made, creating and configuring things to work best for you should be easy. Not terribly well known, you can aggregate information on a sort of home page using widgets. You will have access to social sites, bookmarking sites and more. Not as feature-rich as other already available social media dashboards, there is a good chance it is just enough for you.
7.) Take Hootsuite for a spin.
Hootsuite is a social media dashboard service that is available via the web or through handy apps for mobile devices. Available in a limited free version and for a price with the more expanded Pro version, this social media dashboard is very much a business-focused solution that boasts of several high-profile brands, companies, and institutions that manage their social media with Hootsuite.
8.) Try TweetDeck.
Another top social media dashboard, you could try this service. As the name suggests, it is somewhat Twitter-centric, but you can monitor several other social networks using this service either online or from a mobile device. This UK based app is a good choice if you have a lot of information to comb through, as it allows you to master your networks and configure the web-based app to help you make the most of your social experience.
9.) Give Threadsy a turn.
Threadsy is another web application that helps to bring all of your social media to one place, and it lets you pull together multiple email accounts too. Not as much of a professional tool as some of the other ready-made social media dashboards out there, it if pretty basic and easy to use, making it a good choice for those getting started.
10.) Feel out another service.
There are a lot of social media dashboards, and as more social sites emerge, more social media dashboards are sure to blossom up. Existing services are also certain to beef up their services and offer even more. All of these have different features, so trying these out will help you to create a social media dashboard experience that is right for you.
An article is written by Kate Willer.  I like social networks, Google android, malwareguide.net  and psychology. I'm interested in IT services, computer upgrades, computer repair, different computer apps. Love travelling and skiing.