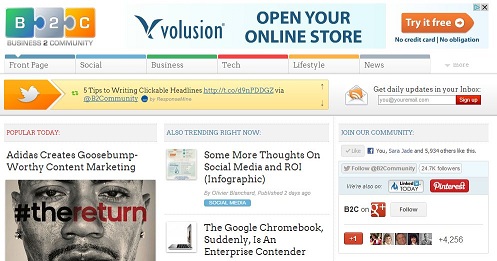 If you have a blog with regular, great content, it may beneficial for traffic to get it syndicated on another website that brings in more traffic. There are several options for websites that syndicate content. To find one in your niche (if it isn't internet marketing or social media), all it takes is some googling of industry keywords plus "blog syndication" or other variations.
Google News
Google News is a great resource to get syndicated on, but its process can be tedious, especially if all the guidelines aren't followed. Once a website is syndicated, it must maintain the guidelines. The stories that are chosen by Google to appear on are by computer algorithm; websites cannot choose which of their pieces of content are going to get published on news.google.com.
However, based on the Panda update, having continuous fresh and unique content that makes an impact are most likely to get picked up by the Google News Algorithm.  Additionally, content may only appear in the Google News results for a month or so, depending on relevancy.
Business2Community
Business2Community is a great website that always has good content. There is sometimes a bit of a wait to get accepted for syndication as a Contributor, and once you are, your pieces of content are chosen by editors and you don't have control over what gets published. Business2Community also allows its readers to contact authors through a contact form and always gives links back to the original article.
The articles on Business2Community get shared via social media regularly and the site has done a great job of promoting its contributors.
Social Media Today
Social Media Today is a lot like Business2Community when it comes to syndicating content, except it's choosing process is more automatic and it focuses on social media-related pieces of content. If your blog covers anything about social media, it is easy to apply; once you have been accepted, you can also write unique pieces of content for the site fairly easily. This would be a great way to get exposure for unique pieces of content that are only published on Social Media Today.
Getting notification about acceptance is pretty fast and the site is vast, yet very easy to use.
When it comes to content marketing, especially if you are a blog or business offering related types of services, it is important to get as much exposure as possible. Syndicating your existing content can be an easy way to do this.
Kelsey Jones runs her own social media and search marketing business, The Social Robot, where she helps clients grow their online presence. She was voted one of the top 100 marketers of the year by Invesp in 2009 and has worked for Yelp, Run.com, and Bounty Towels. Check her out at The Social Robot and on Twitter @wonderwall7.