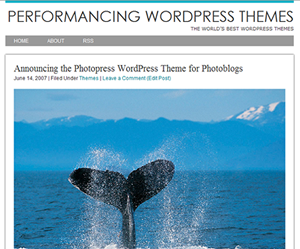 Images speak louder than words on this one. Performancing's June Theme release is Photopress, a WordPress theme perfect for Photo blogs.
Have you ever wanted to display your pictures in a photoblog without sidebar uglification? Well, that was the motivation behind Photopress; a one column WordPress theme specifically designed for photoblogs. With Photopress you can display large 640px width images without any clutter; perfect for the 640×480 landscape standard.
If you want your photos to be front and center on your photo blog, with little interference from your WordPress theme, then Photopress is the theme for you.
Photopress was designed by Brian Gardner.
Visit the official Performancing forums for support.
Click here to download the theme … or … Click here for a live preview of Photopress!.
Update: Photopress has been updated for compatibility with WordPress 2.7 and up. Download the latest version here.