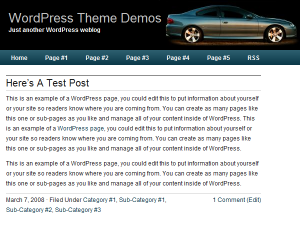 The word "Nitrous" has a motorsport connotation to it, given the use of Nitrous Oxide (or N20) in increasing the power output of engines, and hence giving that all-important boost in acceleration and speed in times of need. This is the concept behind the Nitrous Theme for WordPress. Nitrous is a fast-loading theme that gives you straight-cut, no-nonsense presentation. The design loads fast, with use of lightweight images. The grey and blue color scheme also contribute to that European touring car feel. I can almost feel the wind in my hair!
One interesting feature of Nitrous is that nested pages are automatically added to the top navigation bar as nested dropdown menus. This way you have easy access to your static pages–including the nested ones or the "subpages"–without cluttering up the navigation area with text.
Nitrous is yet another collaboration between Performancing and Brian Gardner, released as a free monthly theme by Performancing Themes.
Update: Nitrous has been updated for compatibility with WordPress 2.7 and up. Download the latest version here.
Click here to preview the theme.
Click here to download the theme.