Here is one of the simplest ways I know to increase the Google ranking of your home page.
Basically, you change the anchor text of your site wide home page link. This link is usually on the header or the sidebar. Most people usually have "Home" as their anchor text. Instead, use a more descriptive keyword. This is to help you get a better Google ranking for that keyword.
I tried this on my Heroes TV show blog. I had built some backlinks but it was still stuck on the 2nd page for the keyword heroes news. I changed the anchor text of my home page link from "Home" to "Heroes News". Below is a screenshot of my new header links.

Within a couple of days, my home page had moved to the front page of Google.
Here is another example from my sister's dating blog. Below is the screenshot of her sidebar.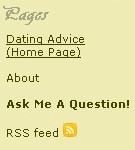 This tip works because anchor text is one of the most important search engine ranking factors. So, change your anchor text to a more relevant keyword and see your ranking improve.