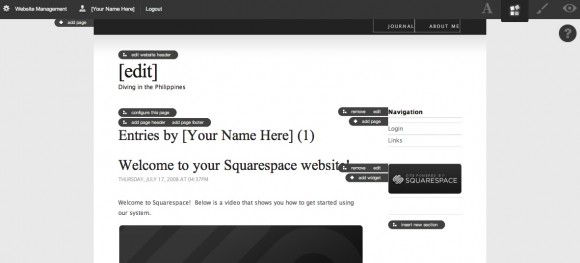 I am of the impression that a lot of the best things from the Internet is built out of a vast chasm of unsatisfactory services that exist — or used to exist online. For me, Anthony's vision of building Squarespace out of frustration of finding "the" blogging platform fuels whatever magic they're doing behind closed doors.

For those who don't know, Squarespace is a paid blogging platform that has gained critical acclaim for being a real sandbox blog service. Although setting up a blog is peanuts to most netizens, Squarespace takes the cake when it comes to instant customization.
In a magazine, you're given editorial and creative freedom to build around a defined space and most of the magic happens when a 8.5 x 11 inch cover comes to life when the inspired come together to build their monthly masterpiece. Online however, since we've all become revolutionary publishers through this gift of technology, the creative canvas before us lies inside our web browser. And since most of the time, we are our own "team" we become frustrated with our limited knowledge of CSS. And so, even if the task sounds simple, changing the width of our main content column seems like a daunting task. Even worse, it may break your layout. Without any knowledge of CSS, Squarespace helps you customize your blog's layout by allowing you to drag and drop elements, change colors, add new elements and widgets — all real time
Squarespace is so much like a safety harness which you wear as you rappel down the cliff of CSS customization. You can reformat your entire site to your heart's content without having to break anything.
You can sift through the many benefits of Squarespace. And there are many. The blogs all say it: it's the most innovative blog publishing platform available today. But for now I will highlight 3 features as to why you should subscribe to this service.
If you're going to pay for a blogging platform, you might as well get your money's worth. Squarespace is a unique platform because it is a fully commercial blogging service. Other platforms offer their services for free OR have a more premium version with added customization. Sometimes sifting through the right plugins can give you a headache. With Squarespace, once you sign up, you're given three things that will make publishing easier:
a. 24/7 tech support. Other blogging platforms rely on a user-created tech support forum for problems with known issues. On Squarespace, if there's something you need, you can hit up any of their tech support anytime regardless of where you're from.
b. Great SEO Optimization. Even if it looks like you're editing your site in flash, Squarespace uses HTML and a solid set of code that provides search engines with more optimized posts.
c. Stats. Squarespace integrates real time statistics which you would normally have to install a plugin for.
You're not locked in. You can import and export your site at will. This feature speaks loads regarding the confidence level of Squarespace. if you're moving from an old platform or have to export your site's content and layout, the platform allows you to do so. Squarespace even preserves the CSS, so you don't just export your data. You export the complete site.
You won't run out of bandwidth. Squarespace integrates your social network widgets. If your site makes the front page of Reddit or Digg, you're assured of 100% uptime and will not run out of bandwidth.
All this starting with the price of a latte a month.