In my last post, I talked about how to use SEO Digger to find keywords where you rank on the 2nd page of Google. Today, we'll look at simple steps to move those 2nd page URLs to the 1st page of Google.
I find that people learn better with practical examples, so I decided to help one of my favorite business blogs, Strategic Profits Blog. Also, I hope to get a link from them 🙂
Using SEO Digger, I found a 2nd page URL. As you can see in the screenshot below, the keyword is "online business coaching" and the URL is www.strategicprofits.com.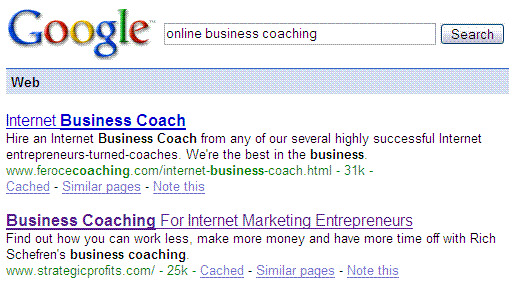 (For more specific steps on how to find URLs on the 2nd page of popular keywords, check out my previous post, Find Great Keywords With SEO Digger.)
So, what can Strategic Profits to move their site to the first page? Here are some tips.
Change the Title Tag and the Meta Description Tag
The first thing I check is the title tag. In a survey of 37 SEO experts, the title tag was voted as the most important search engine ranking factor. Therefore, the whole keyword phrase should be in title tag.
The current title tag for www.strategicprofits.com is
Business Coaching For Internet Marketing Entrepreneurs
If they changed it to be
Online Business Coaching For Internet Marketing Entrepreneurs
they would have a better chance of ranking in the first page.
While I'm working on the title tag, I check the meta description tag and make sure the keyword is in there too. The meta description tag doesn't help too much with rankings. However, it increases clickthroughs because the keyword is bolded on the description on the search engine results pages (SERPs).
Look again at the Strategic Profits result on the SERPs. See how "business coaching" is in bold text.

Strategic Profits can increase their clickthroughs by simply changing the description to
Find out how you can work less, make more money and have more time off with Rich Schefren's online business coaching.
I just added the word "online" to complete the keyword phrase.

Insert the Keyword in the Body Text
I looked through the text of www.strategicprofits.com. I didn't find the keyword "online business coaching". They should insert that keyword 2-3 times in the body text.
Build Links with Appropriate Anchor Text
You can do this in two ways: link to the URL from your site (internal links) and get links from other domains (external links).
Internal links are easier to build but external links carry much more weight in Google's algorithm.
Strategic Profits should use "online business coaching" as their anchor text. However, there seems to be a penalty for overusing the same exact anchor text. To avoid this penalty, they should also use keyword variations like these
internet business coaching
excellent online business coaching
excellent internet business coaching
online business coach
internet business coach
business online coach
business online coach
try online business coaching
Strategic Profits should link internally to www.strategicprofits.com with the above anchor texts. Probably the best place to do this is on their blog.
There are a lot of things you can do to build external links. To keep this post from getting too long, I'll just give two easy-to-follow tactics.
First, I like to get links from the following sites because they're free. All you have to do is submit a quality article.
squidoo.com
hubpages.com
ezinearticles.com
Second, I like to buy links.
Finally, build links in the content area of a site rather than sitewide links (like the ones on the sidebar and footer). Google likes content-based links more than sitewide ones.

Conclusion
It often doesn't take much effort to move a URL on the 2nd page of Google to the 1st page. Follow the above tips and you'll be on your way to a top 10 ranking. Good luck and feel free to leave a comment or contact me if you have any questions.