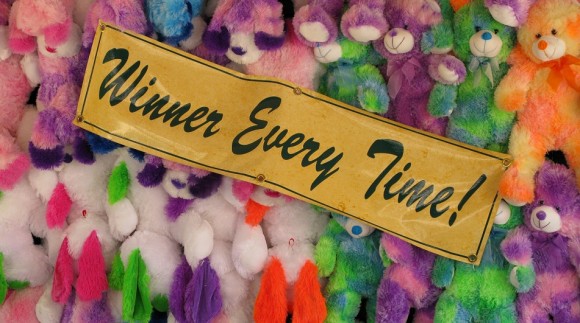 The way that giveaways are managed via social media versus other mediums, like paper entries, text to win campaigns, or other methods. There are several things that need to be taken into consideration, including legalities and the established guidelines that Twitter and Facebook have established for promotions held on their social platforms.
Facebook Guidelines
Legal wording is very important, especially with Facebook, which specifies how contests should be held on their platform.
This is the wording in Facebook's Page Guidelines regarding all Promotions:
Promotions on Facebook must include the following:

a.    A complete release of Facebook by each entrant or participant.

b.    Acknowledgment that the promotion is in no way sponsored, endorsed or administered by, or associated with, Facebook.

c.    Disclosure that the participant is providing information to [disclose recipient(s) of information] and not to Facebook.

iii.    You must not condition registration or entry upon the user taking any action using any Facebook features or functionality other than liking a Page, checking in to a Place, or connecting to your app. For example, you must not condition registration or entry upon the user liking a Wall post, or commenting or uploading a photo on a Wall.

iv.    You must not use Facebook features or functionality as a promotion's registration or entry mechanism. For example, the act of liking a Page or checking in to a Place cannot automatically register or enter a promotion participant.

v.    You must not use Facebook features or functionality, such as the Like button, as a voting mechanism for a promotion.
As you can see from "v.", you cannot use Likes as a voting mechanism for promotion. This is a rule that many businesses may violate. Making sure you are in compliance with all page regulations can prevent your page from getting penalized or deleted.
Twitter Guidelines and Suggestions for Promotions
Twitter's guidelines and suggestions when it comes to contests are pretty clear and straight forward:
Discourage the creation of multiple accounts
Discourage publishing the same tweet repeatedly

Ask users to include an @reply to you in their update so you can see all the entries
Encourage the use of topics relevant to the contest
Follow the Twitter rules and regulations
It is important to pay attention to these guidelines, including reading them fully, so all your promotions are compliant and don't experience any hiccups. It also protects your company or organization from promotion participants who could question contest procedures.