Let me introduce you to one of my favorite SEO tools, SEO Digger.
With this tool, you simply enter in a URL and it will give you the popular keywords that the URL ranks for in the Google top 20. If you become a registered member (it's free), you can do a full search of a domain name.
SEO Digger has over 44 million keywords in their database. The keywords come from Wordtracker and Overture. If your keyword is not in the database, you can send SEO Digger your keywords and they'll add them.
It's not the most accurate tool. Some of the keyword rankings are inaccurate because the search engine results pages (SERPs) are constantly changing. Also, SEO Digger only updates the database every two weeks.
However, this tool gives you a quick overview of where you stand in the SERPs for popular keywords. I like using it to find keywords where I rank on the second page. These keywords are great because it often doesn't take much work to move your site to the first page.
How to Use SEO Digger to Find Great Keywords
Here's a quick example where I used SEO Digger to find a couple keywords on the second page.
I typed the domain name of one of the sites I'm working on, WatchPart.co.uk. I checked "Full search for domain name". Remember you have to be a registered member to use the full domain search. Also, I clicked on "250 keywords" so I could see more keywords per page.

Here are the top of the results. "Pos." is the position where your site ranks.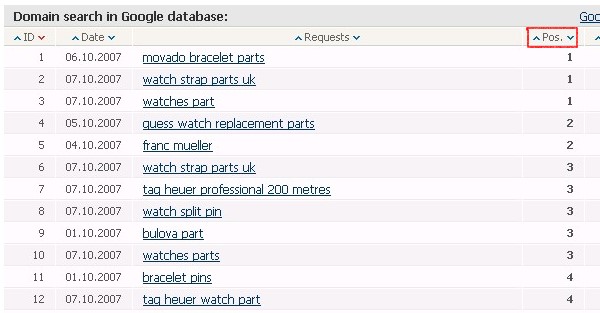 I looked at the keywords on the second page (11th through 20th position). Then, I picked keywords that seemed like they would have a good amount of search volume.
Here are two keywords I found.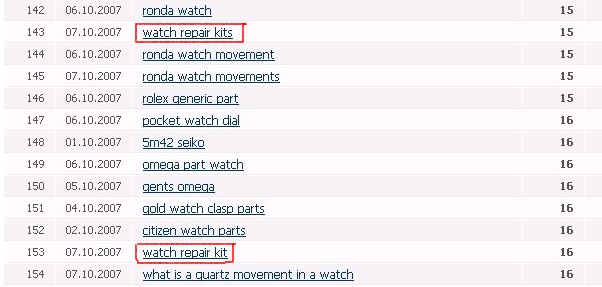 Finally, I checked Google to get a more accurate ranking. For watch repair kits, the site is actually in the 14th position instead of the 15th. For watch repair kit, the site is in the 13th position.
To learn more about SEO Digger, check out the FAQ and manual.
In my next post, I'll give you some simple tips for moving your site from the second page to the first page.