Link building is one of the most essential parts of search engine optimization. Good links connect you to other websites, help Google index pages on your site, and offer new inroads for potential clients to find your page. To understand where blog comments fall on the spectrum, it's important to have a basic understanding of link building best practices and why Google treats some links differently.
How Google Uses Links
When Google crawls the web and indexes pages, it uses links as a kind of roadmap. Its crawlers move from one page to the next via the links on the pages it's indexing. Google also adds or removes value from sites depending on the type and number of links the site has pointing to it.
Why Does My Link Profile Matter?
Since Google uses links to find new pages, your pages are indexed faster when there are more links pointing at them. A higher number of good links also increases your rank on the search engine results page. Pages with more high-quality links tend to be ranked above similar sites with less links. Bad links, on the other hand, can penalize your rank.
What are Bad Links?
Think of links as your friends. Google meets them before it meets you, and judges you accordingly.
If you're linked to a bunch of spam sites or sites with low-value content, your website might be seen in the same way by Google when it is evaluating PageRank. That's one reason why link building with reputable, high-value sites is so important. Your site gains value and traction on the search engine results page when you have links to quality, reputable sites.
Some people attempt to link build by spamming your site on listings pages that create links with no value. This kind of link building can also be punished by Google because the links aren't natural. They're only there to increase your PageRank.  It's a type of spam tactic used to quickly inflate your position—and the results don't last.
What are Good Links?
Good links are natural links to and from reputable sites that are relevant to your own. Natural means that they have a real purpose for being there and offer some kind of value to readers. Giving value to these types of links helps Google keep its search results free of spam and low-quality sites.
What is a Comment Link?
A comment link is one that is attached to a comment you've left on a page. Many articles, blogs, and informational posts allow readers to leave a comment to add to the discussion, discuss what was written, or review the page. Most of the sites that allow comment links allow you to place hyperlinks within your comment.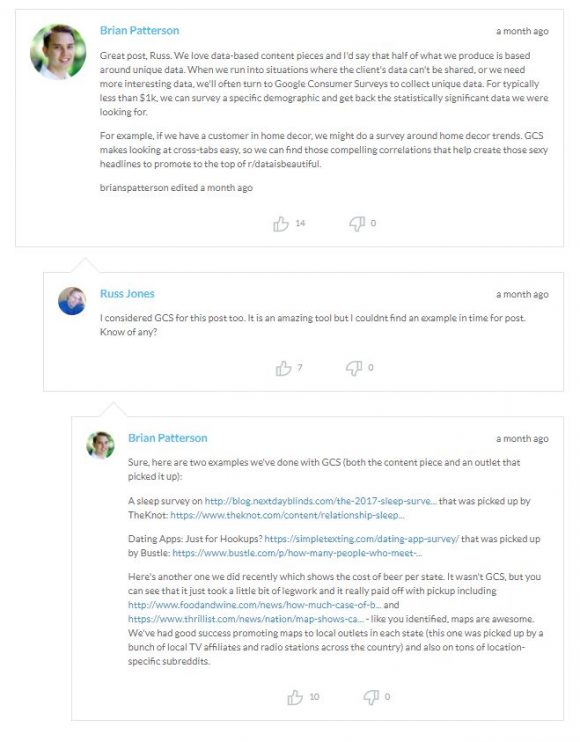 Do Comment Links Work for SEO?
Yes, there is SEO value in using comment links. The caveat to that, however, is that spamming pages with comments that include your link may not do you much good. There's a strategy to using comment links correctly if you're hoping to use them to improve your SEO.
How to Use Comment Links Effectively?
Apply the same strategy you use to develop great content to your comment links. Each of them should add value to the page where you leave them. They should be well-written, on topic, and use the right format. If they are, you'll be more likely to see an SEO bump than you would otherwise.
Find the Right Places to Comment
This should be obvious, but leaving your link just anywhere is a no-no. When looking for a piece to comment on, try to find something in your niche and on a topic that you know about. In addition, it's best to comment on blogs or pages that are themselves highly ranked. Check the PageRank and Domain Authority of each place you're considering commenting. The higher, the better. It helps you get links on well-regarded pages. If the page isn't indexed on Google, there's no point in leaving a comment right now.
Look at the Competition
If there are already many links on the page and in the comments, give that one a pass. The more links on a page, the less value per link. There are so many places to leave comments that you don't need to settle for one that's already overrun with links.
Check the Comments Policy
Different sites have different rules for commenters. Always check the community guidelines before making your first post, if a site has them available. For example, Moz has the following passage in their community guidelines:

Craft a Good Comment
Your comment absolutely needs to add value to the discussion and be on topic. You should appear as an authority on the matter. Consider that someone interested in what your company offers could be introduced to you through the link and click on it. Make it the kind of first impression you want to give out.
If you only say "Good job!" on a post, then you aren't adding value to the discussion. Consider quoting something on the page and then adding your take to it or expanding on it.
Use the Right Anchor Text
Don't type your link like a robot. It's important that your comments look natural. Not every comment should have your exact keyword phrase as anchor text. Not every comment should use your business name as anchor text. Mix it up. The key is to avoid looking like you're spamming for the purpose of getting links. Use natural anchor text that adds to your comment rather than making it look unnatural.
Matt Cuts said, "The sorts of things that I would start to worry about is it's better to often leave your name so someone knows who they are dealing with, rather than "cheap study tutorials" or "fake driver's license", or whatever the name of your business is, often that will get a chillier reception than if you show up with your name."
Comment Approval
Blog owners and webmasters have the ability to approve or reject comments left on their pages. If you write something on topic and use the right anchor text, your chance of having your comment approved increases. High-value comments on content is a good thing for most blogs or websites; if they didn't want comments, they wouldn't have added the ability for you to do so.
But if someone comments and it appears to be spam or mere self-promotion, it can lower the quality of their own page. This is another reason why it's important to approach the comments you leave as a representation of your company.
How Do Comment Links Affect My Link Profile?
Comment links aren't a negative thing for your link profile—quite the opposite. Even though they're relatively low-value in terms of SEO, they improve the overall look of your link profile. The reason for this is that they offer diversity. A good link profile should look natural, with a blend of different link types and anchor texts. Since many people naturally leave comments and include links, link comments are a good addition that helps keep your profile from looking too manufactured. They shouldn't be the majority of what you have, but they do bring balance to it.
No-Follow and Do-Follow in Comment Links
Not every link you leave will necessarily be do-follow, the type of link that tells Google's crawlers to carry on to your page. Some may tell Google to not index the page on the other side of that particular link. That doesn't mean they don't have value, however. No-follow links may offer some SEO value and also offer value in terms of organic views and becoming an authority in your content area.
If possible, look for pages that allow you to use do-follow links. But don't shy away from the other type, especially if it's on a popular page that relates to your company's niche.
Comment Links and Organic Views
People read comments on pages they find interesting. By writing authoritative comments on pages in your niche, you're not just improving your SEO. You're also giving interested viewers a chance to read your words and visit your site. The more popular the page where you leave your comment, the wider audience you're reaching. Keep this in mind when you're choosing places to leave your comment link.
The more people find your site through any method, the more likely you are to get a better PageRank.
Comment Links and Outreach
Another benefit to leaving comments on popular pages is that you may be able to interact with others in your niche. This can lead to other, more valuable links if they choose to follow your site or social media. Influencers who link to your content are very important and useful in your content outreach plan. Leaving comments with links to your website are one way to get their attention. This is another reason why it's important to write a strong, thoughtful comment that makes a viewer want to see your site.
In sum, comment links offer some SEO value and also offer value in terms of organic views and outreach. They're worth including as one aspect of your link profile, though they shouldn't be the dominant type. When using comment links, it's important to leave the right comment on the right blog with the right anchor text. Doing so will maximize the impact of your comment links on your SEO.