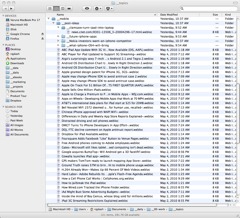 If you have a Mac or PC computer, there's a simple way to locally bookmark Web pages that you're browsing or researching en masse that keeps you browser-independent: file folder shortcuts. This method keeps you from having to open multiple Web browser tabs or bookmark all the URLS or worse, copy and paste links into some sort of list. It is a simpler former of bookmarking, but avoids some of the other methods' limitations. Note: I haven't tried the following tip on a Linux system, but it might work similarily. I tested on a Mac (10.6.x Snow Leopard) and a PC (Win Vista).
First, let's look at the objectives we're trying to achieve:
Browse lots of pages daily, to find ideas and references for blogging.
Locally bookmark web pages independent of any browser, to preserve them for that day and beyond, if necessary.
Minimize the number of open browser tabs, to save the amount of RAM memory your computer is using at any given moment. This saves an immense amount of wasted time.
Reserve the ability to group links as necessary, and move links around for regrouping.
Sources that I refer to daily for finding blog post ideas and references include:
Favorite sites you've previously bookmarked.
RSS readers (e.g., Google Reader).
Portals and aggregators (Alltop, Techmeme, Megite, WeSmirch, etc.).
Social voting sites (Digg, Mixx, etc.).
Social bookmarking sites (Delicious, Stumbleupon).
Microblogging sites (Twitter).
Social networking sites (Facebook, MySpace, LinkedIn, Ning).
Typically, I've used mind mapping software and other tools for bookmarking or recording interesting links for later use. Specifically, I've tended to favor Mindjet's MindManager on a PC for about three years, and particularly love this tool. However, when I switched my main laptop to a MacBook Pro last December, I was hugely disappointed to find that not only is the interface for MindManager different than on a PC, but the workflow is different. That's also true on the Mac for all the other mind mapping tools that I tend to use regularly, such as XMind.
I still love MindManager and other mind mapping tools, but for now, they don't work for me on a Mac. After wasting a lot of time going back to opening up multiple browser tabs while researching, I managed to crash my Mac (yes, a Mac!!) too many times. Purely by chance, I accidentally discovered a simple trick: drag Web page links from your browser to Explorer (PC) or Finder (Mac) applications to create a link shortcut. I'm honestly surprised that I never knew this before, and actually have Mac OS X's general interface to thank for the discovery.
What happens is that both apps store link information in the form of a "shortcut," which you can later either drag into a browser or double-click on to open the content page. It's really quite simple and I'm actually surprised not to have discovered it in the past. Note that with Macs, clicking on a link stored in a Finder folder opens the Safari browser, and that as far as I know, this cannot be changed. If you prefer a different browser while using a Mac, you can use your mouse to drag shortcut links from Finder folders and drop them into your browser of choice. With PCs, you can configure the default browser, so clicking a saved shortcut will open whatever browser you've configured.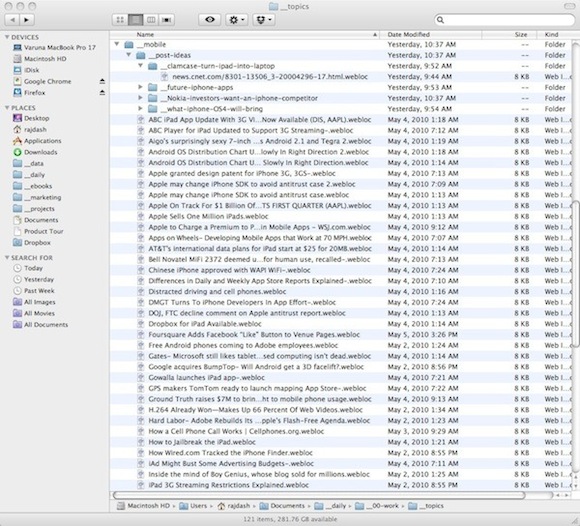 Caveats
You can end up still accumulating far too many link shortcuts that you'll never use, and create multiple daily folders, thus finding yourself just as overwhelmed with information overload as with other blogging research methods. So discipline is independent of blogging workflow, and something you'll need to discover for yourself.
The fact is, I still open far too many browser windows and tabs. For example, at the time of this writing, I have probably 60 tabs open overall in Firefox, Chrome, Flock and Safari. It may seem like a bad habit, but is often a necessity when working with multiple clients and using multiple Web profiles for social media and other services. Using the "bookmark-within-file-folder" trick simple reduces the number of browser tabs I need to open. As a result, I've managed to be more productive again for two key reasons. One is that my browser windows hang less often because of more free memory. The other is that I now focus on one browser tab at at a time. Overall, this means less time spent researching/ browsing and restarting browsers and more time for writing.