This is the first post in an ongoing series I'm writing for Performancing.com called, "Bet You Didn't Know that Site's Built on WordPress" where I'll highlight businesses and brands using WordPress that might surprise and inspire you.  If you thought WordPress and blogging was just for hobbyists and personal blogs, you're wrong.
Today's installment of "Bet You Didn't Know that Site's Built on WordPress" features Tufts University, one of the leading higher education institutions in the United States and located just outside of Boston, Massachusetts.
Each of the student and administrator blogs sponsored by the Tufts University Office of Undergraduate Admissions runs on WordPress.org.
The main Tufts Blogs site offers links to recent posts from each Tufts University blog as well as a list of all the blogs in the left sidebar.
The Inside the Dean's Office blog offers insight from Dean Coffin, which is written in his own voice and with a touch of humor that makes it far more interesting than you might expect from the dean of a leading university, as you can see from the post shown below.  You can read his post here if you can't see it in the image below.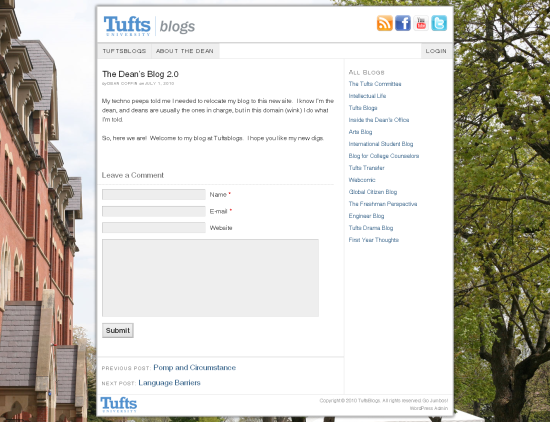 The Tufts Engineer blog is pictured below.  Each Tufts blog is simple in design with the same background and the only change being in the post content and the About page link.  I'd actually like to see better branding at the top of each blog to better identify what each blog is about that makes it unique and interesting.  The consistency in the background is a good idea, but I'd like to see uniquely branded headers or some other way to better identify what visitors can expect to find in each specific blog.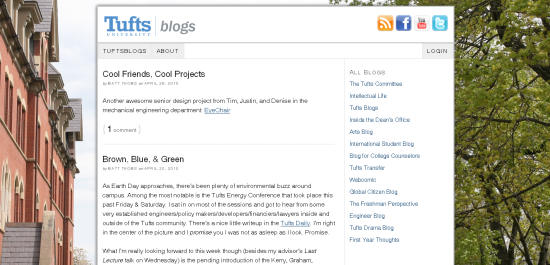 Despite the need for better individual blog branding, Tufts University shows from its blogs and its use of WordPress that is is keeping up with the essential technology and social media conversations that students, donors, businesses, and communities expect to see.  Furthermore, the prominent links to Tufts University Facebook, Twitter and YouTube profiles are done well to maximize community and relationship building opportunities.
What do you think of Tufts University's use of WordPress.org and blogging?