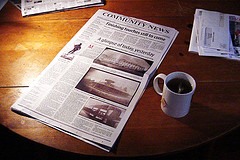 Even if your blog is for a business, there's still a possibility that it covers the news in your industry. If so, it's also likely that you don't get exclusives and therefore are mostly rehashing topics. However, there's still a purpose for doing that, and you should be armed with a few tips on the most effective ways to write news-y posts for your niche.
Variety. There are tons of generic idea sources: aggregators, portals, microblogs, social media. E.g., Google News, Yahoo News, Technorati, Google Reader, Google Alerts, Alltop, YourVersion, Digg, Stumbleupon, Mixx, Propeller, Reddit, Neatorama, Twitter, Facebook and many more. For tech, there's Techmeme and Megite. For celebrity, WeSmirch. There are many for business, sports and an increasing number of other niche portals. Choose a site relevant to your niche, and monitor the top news sources for breaking stories, but don't ignore the smaller sites, which may offer a different perspective. (Hint: big sites often earn advertising revenue and are not always as edgy in their opinions.)
Frequency. If you're covering news in multiple short posts every day, you probably want to publish at least 3-5 posts. If you're in a competitive niche, you might need even more. For example, celebrity and political blogs might require 10-15-20 posts per day to really make a dent in market share.
Schedule. Spread out blog post publishing time frame during a given day. If your blogging platform or CMS allows it, you can write all posts at once and then schedule them to publish automatically at intervals (no less than 15-20 minutes). However, writing a day's quota of posts at once, say every morning, means you miss out on any afternoon or evening news. In some niches, there's news all day, and if you can work it into your schedule, writing 1-3 posts for each of 2-3 time slots (from morning, afternoon, evening, night) might serve your site and readers better. It really depends on the niche and your readership. The more global your readership, the more valuable it is for readers if you're posting to multiple slots, provided it's not all rehashed news from earlier in the day.
Summary. Sometimes you want to cover several tidbits of news that don't warrant their own post, searching for images, etc. The best way to do this is a roundup post, with a maximum of one per day, unless that your blog covers distinct sub-niches. Don't forget to put the date in the title. I'll do something like this on Performancing: "Performancing Blogosphere Roundup — May 20, 2010." Sometimes I'll precede such a title with some unique keywords relevant to the news tidbits: "Blogs, Hard Drives, and iPads — Blogosphere Roundup, May 20, 2010." Brainstorm different titles before picking one; don't be afraid to get creative, unlike me.
Uniqueness. It's not enough to rehash the news. If "everyone else" is doing it too, then why would you retain any regular readers? Add your own voice and value to the mix. Inject your relevant opinions, reference 2-3 other sites, say more than what the articles you're summarizing say, and say it succinctly. Or add visual content such as images, video, web slideshows.
Balance. If you are blogging for a business, one of your objectives is probably to establish expertise and be a thought leader. It's hard to do this in newsy posts. So balance these by mixing them with regular posts and longer resource lists (e.g., 11 Ways to use the iPad to Run Your Business).
Inspiration. Inspiration for blogging regular posts is a bit different than for newsy posts, but some of the rules still apply.
Image: Flickr.