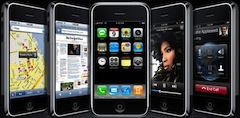 WebTrafficROI has a very interesting link-building tip: create an iPhone Web app. They're not talking a native iPhone app, which would take a lot more time and money, but rather a Web app that would run in the iPhone Safari browser. Why? Well free mobile apps (native or otherwise) are today's hot freebie, assuming you've done a good job. So WebTrafficROI suggests that you create a mobile Web app for the iPhone and then submit some PR to various sites that review or feature such apps. Their logic suggests that when a site covers your app, you'll get an inbound link. Do this with enough sites and your search engine ranking will build.
Now while they're absolutely right about that, and this is definitely a legitimate link-building technique, don't be so sure you'll get a lot of sites following through. I know from researching for my own mobile apps startup that while there are a growing number of mobile app review sites, many are either backlogged, some are not interested in mobile web apps. They also mention Apple as a site that features mobile apps. Again, this is true, though it's not that easy getting featured. (I've heard tell that wooing some Apple employees with dinner might get you a contact name for getting featured, but that's not necessarily true, and you'd have to live in Silicon Valley.)
Some Mobile-Related Link-Building Options
An iPhone and iPad are part of my blogging computing setup, and I think WebTrafficROI's mobile approach to link-building is still a legitimate and good approach. They give you some mobile Web-specific tips for code to detect when an iPhone/ iPod Touch device is requesting a web page. However, I wanted to add to the conversation, and suggest a slightly broader approach. When it comes to what you can offer in the mobile space, here are some options, possibly overlapping with what WebTrafficROI wrote:
A mobile version of your site with the same or similar functionality, but obviously geared towards a specific mobile device, possibly an iPhone. This is the simplest approach and often the least expensive.
Offer a native mobile app with the same or similar functionality as your website.  There are some things your mobile Web app just cannot do, depending on what smartphone(s) you are targeting. (If you are promoting a blog, offer an app that provides a mobile view of your content. There are some development tools that make this very easy to do, provided your site has an RSS feed.)
Offer both a mobile Web version and a native app. Presumably the latter would have additional features not available to the mobile Web version.
Offer a mobile Web or mobile native app related to your niche.
For example, I'm working on two iPhone/ iPad apps that I'm hoping to give away in the future. One is for bloggers in any niche, a very broadly-scoped app. The other is Twitter-related but geared to the social media marketing side of things, so it should appeal to web-based entrepreneurs and small business owners. Each app's release will have a different market but the same objective: build brand presence and back links for my mobile apps startup.
Considerations for Leveraging a Free Mobile App
If you do want to release a mobile app, Web or native, as part of a link-building strategy, here are some things you should consider, especially if you plan to offer a native mobile app instead of a mobile Web app.
Partner up. You can partner with other bloggers to help cut the cost of development, or if the scope of your app is broad enough,  you might even partner up with a mobile app development studio (I'm partnered with two). In fact, you may need to partner if you don't want to go through the effort of registering with Apple or Palm or Google, etc., as a developer — which in some cases costs money. The cost of using an app development studio can be defrayed by bartering your writing services, or offering advertising, or something else entirely.
Target one platform. I might be biased but I'd say go with the Apple iPhone OS platform, which includes the iPhone, iPod Touch and iPad. (As a starting point in your research, you might want to check out SplashPressMedia's AppleGazette blog and my CallStyle blog. I'll share other links in the future, as appropriate) While the Google Android platform is gaining ground, the problem as I see it is fragmentation, with far too many handsets with different screen footprints.
Go beyond free. If you're giving away a free mobile Web or native app, great. But consider a paid premium native app with additional features. This might be one way to pay for development costs. You might not make a profit directly from the paid app, but if you achieve your objective of building back links, which in turn bring indirect revenue, then you've succeeded. Don't forget that your blog can be your marketing vehicle.
Brainstorm your app. Be sure of your objectives for the app. Who is the target user? What will it do? Will you support it by offering upgrades? Why are you creating it? For the latter, be completely honest with yourself. Just like web designers were giving away free WordPress themes in hopes of getting backlinks to their site, it's okay if you're doing this for the for the purpose of link-building.
Have a marketing plan. Oh you didn't that "they" would just come if you "built it", did you? Create a list or spreadsheet of all the mobile sites that might feature your mobile app. They don't have to all be about mobile apps or smartphones; they could be niche-specific. Have a press kit for your app, and include screen shots or links to video, a description of the app, your intent, your contact info, and whatever else is appropriate. Then systematically contact each site and offer them interview time, if they want it. While you are waiting to be covered (don't necessarily expect a response to your email), move on to the next site in your list. Promote your app in Facebook and Twitter.
This is a very nutshell overview of how to leverage a mobile app for link-building. If there's enough demand for covering more mobile topics as they relate to blogging and building an online presence, I'll do so. I do have a couple of mobile-related posts up my sleeve for the near future, so keep an eye out.
Via: WebTrafficROI.