Thanks to the exploding popularity of sites like Pinterest and Wanelo have shown that creating visual interpretations of content (like infographic creation), as well as substituting images for the written word itself, can have a big impact. As the web gets larger and larger, it seems like its users are looking toward a more beautifully-design Internet that both inspires and educates them.
Photo manipulation has grown from correction to more of an art form, allowing anyone with an iPhone and the Instagram app to create edited photos with filters applied, easily and in a matter of seconds. This has created a demand for more photo apps that have greater features that are easy to use but can make a photo look how a user wants it.
If part of your social media strategy includes quotes or sharing images of projects or products, then the following free photo editors can certainly help. Each has its own benefits and set of unique tools that can make any image posted on your social media accounts, websites, or blogs stand out better than ever.
Pixlr
Pixlr is a popular and easy to use app because it mimics the major tools of Adobe Photoshop, but it is free and online. This means that you can access Pixlr from any internet browser without having to download (or pay for) any software. Pixlr is great for basic image correction and editing, including resizing, color correction, and cropping. It is easy to save images and the process is fast. Pixlr also has an app for iOS.
PicMonkey
PicMonkey is what most Insatgrammers probably envisioned a great photo editor should be. The controls and options have fun references (e.g. you save file sizes as Roger (Federer? Ebert?), Pierce (Brosnan), or Sean (Penn)) and there are so many creative and fun features: cool fonts, seasonal clip art add-ons you can lay on top of your photos, custom filters that can be applied to only certain parts of the image, beauty filters like wrinkle remover and blemish fix, and so much more.
There are certain fonts and features that are only accessible with a paid membership, which is $4.99/month or $33 per year.
QuotesCover
QuotesCover is an image editor that was created to put words on patterns or images, with a typographic, artistic emphasis. There are hundreds of quotes you can already choose from on the site, as well as color combinations to create the perfect background. You can also upload your own words or images for the background. When you have chosen your words, you chose from 5 different image types: Facebook Cover, New Google Plus Cover, Viral Images (these are square), computer wallpaper maker, and for art prints.
Once you have chosen your image size, it then takes you to a creation tool where you can choose from pre-designed font and color combinations. You can also add your image background.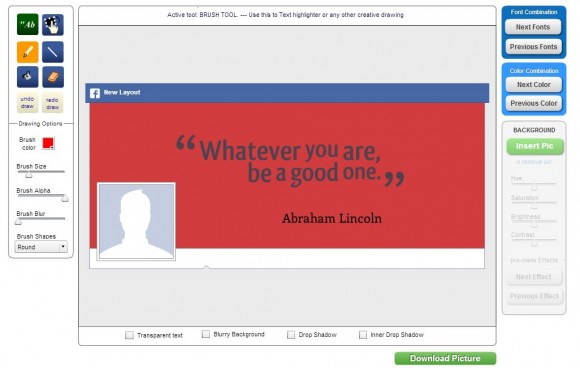 Once you are ready to download your image, click Download Picture. When saving, do not change the file name until the image is downloaded. Otherwise it won't download (for reasons unclear).
Using the viral image size is also a great option for creating unique Pinterest pins that can help get your Pinterest account more traffic.
FotoFlexer
This free image editor is online as well. It has a robust set of features and lets you upload a photo from your computer as well as get your photos from a variety of online sources, including Facebook, Flickr, and SmugMug. Once you have chosen your photo, you can begin to make edits, which include the ability to fix red eye, smooth wrinkles, add glitter text and stickers, or even a border. There are also a wide selection of effects (or filters, to the Instagrammers) to add to the photo.
There is even a Geek section, which allows you to use Smart Resize, Smart Recolor, and the Morph feature. Because of its fun stickers and actual photo editing features, FotoFlexer is a great choice for creating viral images with text or just retouching a few images that need help with coloration or red-eye.
GIMP
GIMP is the only downloadable program on this list, and it is most similar to Photoshop. For that reason, it is useful to have some Photoshop experience before using it. GIMP is completely free and has a variety of features, including a customizable interface, photo enhancement, and the ability to open several different kinds of photo formats, including .PSD, the default Photoshop format. GIMP is a great alternative to Photoshop and while it cannot do everything that Photoshop can, it is a great alternative, especially because it is free!
While these are just some of the copious amounts of free image editors online today, these 5 will give you a great start toward creating viral images that could help you get more traffic and views online.