Freelancing has become rather popular in recent years, not only because of the freedom it offers, but also because opportunities are expanding and earnings increasing. In the design sector, more and more web designers are taking to building a business for themselves as well.
And, why not? There is certainly no lack of clients and work opportunities, and web designers have all the resources they need to start, run, and expand their business. That's not to say that there are no potential issues if you follow this route.
On the creative end, one of the possible bumps along the road is the time and effort a designer has to spend on coding. That's the not-so-good news. But, not to worry, as there are solutions that allow web designers to zone in on their strengths and leave coding to those who may know better.
In this case, Webydo, the leading professional online design studio is a great solution for web designers who want to take their design business to a whole new level without having to expend unnecessary effort on learning the intricacies of coding (not to mention debugging!).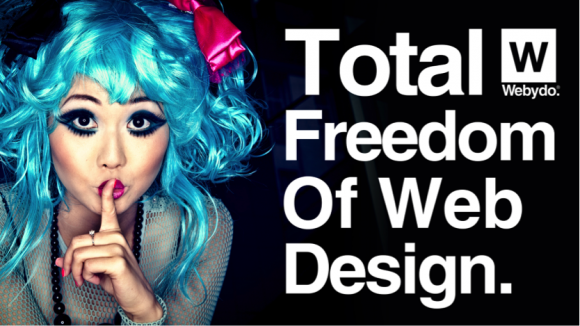 This website builder is targeted at professional designers who have their priorities straight; that is, to make beautiful yet functional websites for clients; to focus on the elements of design; and to put all their worries aside in regards to coding, since Webydo's powerful software does it for you.
Of course, we know just how important coding is in the website design process, but if you are more focused on the visuals and functionalities without having to struggle with the code, then Webydo will be a lifesaver for you. With an intuitive user interface – drag and drop, resize, crop, etc. – all you want, you will save a lot of time on your projects.
Don't be fooled, though. The ease of use doesn't equate to an unpolished look. Webydo is anything but. Quite the contrary, with this website creator, your finished product can hold its own in the pantheon of the best websites out there. Your creativity is the limit! You can take a peek into their online design studio below: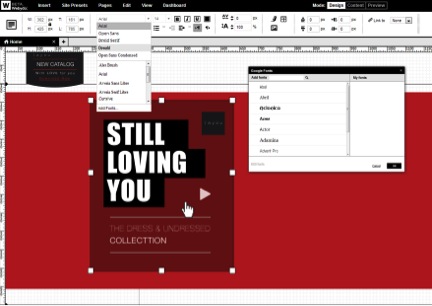 Webydo prides itself in offering the "freedom of web design" to professional designers, allowing you to create and tweak as much as you want to ensure your clients' satisfaction. The platform offers the following features, which will certainly give your business an edge:
Hosting for a custom domain name – a must in today's competitive online atmosphere
Ecommerce site setup – a lucrative niche these days
A blog apart from the main site – Articles & Collections Feature
White labeling with the build your brand feature
Branded invoices – Designers can send invoices to clients for projects right from the dashboard
These are only a few key features that will make your life as a web designer more efficient and productive.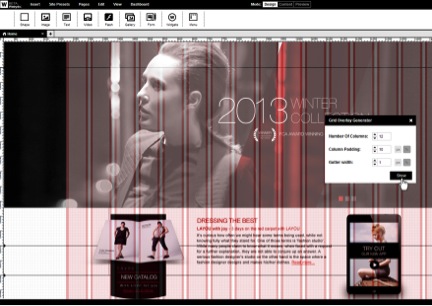 In terms of the actual design process, you will also enjoy the fact that you can make use of readymade design inspirations or choose from one of the basic layouts – again, a time saver in case you're on a tight timeline. If you want complete freedom, though, you can always start from scratch with a blank canvas to design a website as well. Whatever floats your boat, Webydo provides you with the freedom of creativity.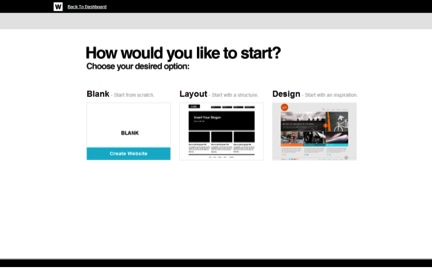 Web designers can be a finicky bunch – in a good way, that is. After all, there is no such thing as spending too much time on finding the perfect font, right? The success of your business depends on that level of attention to detail!
If you feel that way, you'll be happy to know that with Webydo, you have access to hundreds of free open-source fonts. Not only that – you can also create a responsive website without having to worry too much about the technical aspects. And, last, but not the least, you can easily upload all your design elements, click publish, and see your work go live for the whole world to see. Webydo was created by designers and for designers so the entire work process will be streamlined for maximum efficiency.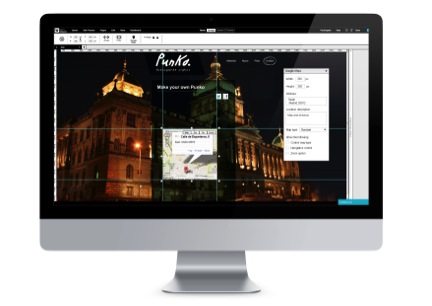 Unleash Your Creativity With Webydo
What is really one of the biggest driving factors with Webydo is their community led Participate page. Here, their over 50K professional designers community is regularly submitting new features suggestions, voting & commenting on what should be added next and watching as their suggestions are turned into a reality. Webydo's platform is being guided by the designers in order to provide the most up to date features available for the designers.
Webydo has a free plan to help get you on your way and give it a whirl. That allows you to play around with your design to your heart's content without having to lay out cash. When you – and your client – are ready for the project to be taken to the next level, only then do you have to purchase the premium plan ($7.90/month billed annually) to publish the site using a custom domain, and you also have unlimited bandwidth, page creation and up to 2GB of storage as well as 24/7 customer support and a massive learning center of tutorials. How's that for a great deal?
Do you want to optimize your workflow and expand your web design business? You know where to go.
This article is proudly presented by Webydo's designer's community.