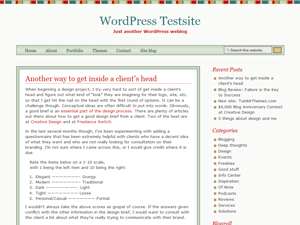 Ever wanted to explore for hidden treasure as a kid? Well, most of us have longed for, and still do long for, this kind of adventure. Most would keep other sorts of treasures in all sorts of places, in their proverbial treasure chests. Love letters are kept in drawers. Photos in photo albums. Toys in toy closets. Blog posts, of course, precious that they are, are kept online.
But what if you can keep your blog posts in "treasure chests" of their own? This is what Performancing's Treasure Theme for WordPress is all about. Each blog post is kept enclosed in its own box–or what you can call its treasure box. This is very appropriate for bloggers who want to consider each and every published post as precious ad gold and gems.
Another classic from Performancing Themes for WordPress, the Treasure Theme is a collaboration with designer Randa Clay, who has done various other Splashpress Media designs.
Treasure Theme is optimized for use with WordPress 2.7 and above. It supports threaded comments, post classes, image captions and gallery classes introduced in this version of WordPress.
Download the Treasure Theme for WordPress here.
See a live preview here.