Once upon a time, there were seven results in each Google search that returned location-based business listings. In 2015, however, Google changed how they display results and cut the listings down to three that appear at the top of the search results. Being one of the listings in the local '3-pack' is invaluable for your business as you seek to reach more clients and make more money.
What is the Google Local 3-Pack?
The local pack is a list of three results under a location based Google search. An example of a location-based search would be "donut shops Portland Maine". The searcher is clearly looking for a business to visit, and the results reflect that.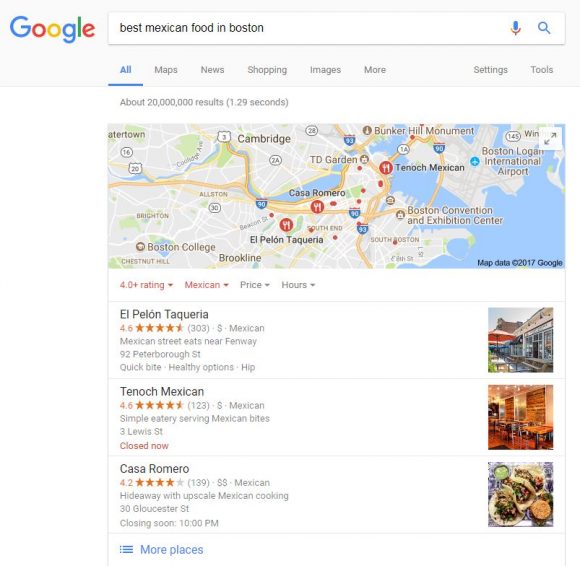 Listings are displayed under a map that shows the physical location of each result. The name, address, and current hours are displayed for each listing. If there is a website, that link is offered. An option to get directions to each result also appears. There's also an approximation of the price, a description of the business, and a star rating review, if applicable.
Viewers can click "More places" under the 3-pack to see a list of other nearby business listings. Doing so takes them to a maps page with many results plotted on a map.
Why Did Google Reduce the Number of Local Results?
Mobile takes an increasingly large share of views on Google every year. When seven results were displayed, they didn't fit on most mobile devices properly. It didn't look as good. Cutting the number of local results from seven to three made the map and results fit on the mobile screen and provided a better customer experience for users.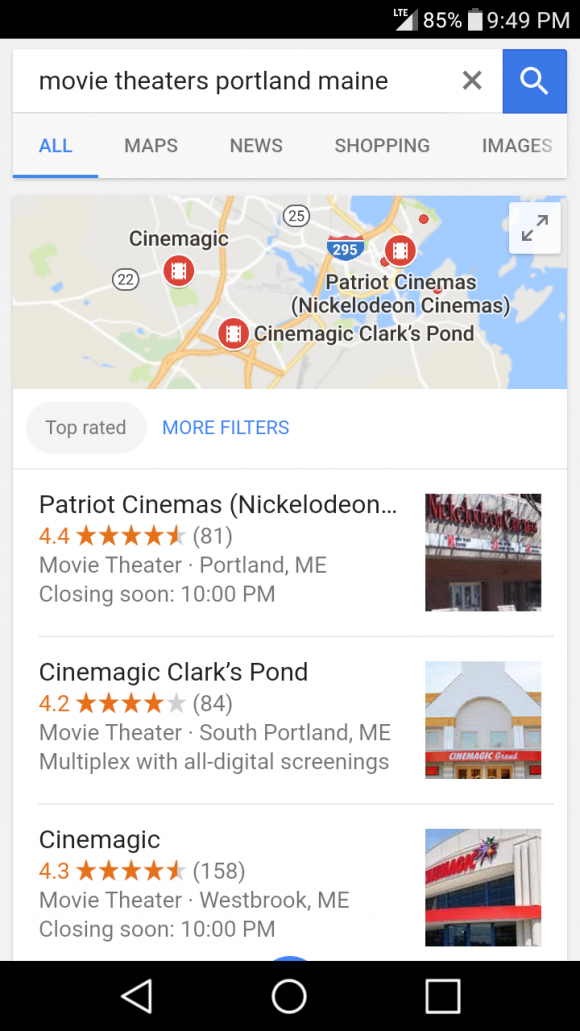 As of 2015, Google officially stated that more than 50 percent of searches were done on mobile devices. They didn't give an exact number, but the data was still important. For the first time, optimizing for mobile meant optimizing for a larger number of customers. Hitwise said in 2016 that mobile search makes up 58 percent of search query volume in the United States. Of those queries, searches about food and beverage were the highest at 72 percent.
Hitwise also found that mobile queries are a bit longer than PC search queries. The food and beverage category saw search strings of 13.8 on PC and 15.5 on mobile.
Google doesn't stay static. Things change all the time because Google wants to provide the best user experience to the widest number of users possible. Chances are that in the future Google will adjust what appears in the local results again—and keeping your local SEO approach focused and clean will help you stay in the results, no matter how many there are.
Local SEO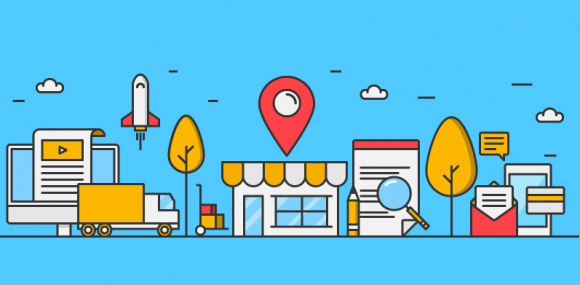 Local search engine optimization is a bit different from traditional SEO. It focuses on making sure you're one of the results that's returned in local searches. When you're looking to get foot traffic or make connections with people who are physically located near you, local SEO should be a priority. After all, reaching customers in Canada doesn't do much good if your business focuses on physical sales in Florida.
One of the most important aspects of local SEO is the local pack. These businesses are the first listings that appear on the search engine results page. Having such a small list means that competition is fierce. Since most people click on the first result—and the majority of clicks beyond that go to the next few listings—you're missing out on valuable customers if you aren't in the local three pack.
Why is the Local 3-Pack Important?
Being in the local three pack means you get more exposure. Local searches are very important for a number of reasons. Consider these facts:
Local searches account for 46 percent of Google searches. That's a large percentage of searches that you'll miss out on if you're not showing up in local results. Just having the location of your business on your site isn't enough anymore, because competition for the top spots is fierce. You have to go farther if you want a spot in the local 3-pack.
Most people who do a location-based search end up contacting a business when they're done. You want to be the business they contact, especially because 78 percent of location-based searches lead to a purchase down the road. So for every person who does a local search, there's a strong chance they'll end up contacting a business and then making a purchase based on that search.
You don't have to wait long to get that extra money in some cases. Some customers act very quickly after they're done doing a local search. 18 percent make a purchase on the same day.
How Do I Get Into the Local 3-Pack?
Improving your local SEO is the best thing you can do to make your business rank higher. The more Google trusts your business, the more likely you are to be listed in the local three pack.
Improve Your Overall SEO
Improving the SEO of your entire site will lift you in the Google search results and help you get into the local three pack. Your link profile, content, and outreach all need to be excellent so that your company is one of the top results for your keyword searches. Being optimized outside of local search puts you in a good position to rise quickly in local search.
Fill Out Your Google Business Listing
If you haven't already done it, now's the time to claim your free business listing on Google. You fill out your business information and keep it updated as things change. For example, you can adjust your hours when they change due to a holiday. Google's business listings give you other ways to interact with your potential customers as well, including uploading photos and responding to customer comments.
Consistent Contact Information
One thing Google values is delivering consistency and value to its users. That's one way that it became the most used search engine in the world. People know that they'll be able to find the information they want by performing a Google search. Because of this, NAP (name, address, and phone number) are strong ranking signals for local search. Citations are one way to refer to an entry that includes the NAP of your business.
The NAP data should be exactly the same on any citation that appears online. This means that you should always use the same format, too. If your website refers to your location as Main Street, don't shorten it to Main St. in another listing. Don't list different phone numbers for the same place in different listings. Instead, keep everything in line with what's on your main website.
Use a local number in any listings with NAP data. You can leave a toll-free number too, but having a local number is essential for getting in the three pack.
If you're listed in many different places with different contact information, it may be harder to get into the three pack. Go through all your online sites and presences to make sure they're consistent. If you're listed on sites that aggregate information and they're showing outdated or incorrect information, contact the people that run the site and ask for your listing to be updated or removed. You can usually find contact information on the "About" page or in "Frequently Asked Questions".
If you don't have your information in niche-specific and high-quality databases, start adding it. You shouldn't spam any site that will take your information. Instead, find places where listing your information adds value for site users and your customers. Review sites, industry directories, and other types of sites can help get your information out there. Yelp and TripAdvisor are two high-quality sites where you can check and correct your business information.
Provide Information for Visitors
Include information that can help someone visit your business on your site and in your Google business listing. For example, the hours you're open are very important. Google will be less likely to include you in the local three pack if it doesn't have all the relevant information to provide to a searcher.
On-Page Optimization
In addition to consistent contact information, you should have an optimized page for each business location. When people do a local search, they want information about somewhere they can go in person. If you have multiple locations, having that information helps keep the results relevant to the search.
When you make a specific page for each location, don't just copy and paste your content. Instead write something a little different for each one. That should help with the SEO for each page. Also consider including several other elements, like an on-page Google map showing your location. If you use schema markup, include the address and phone number of the locations in it.
Consider including images of the location, a description of the location, or a section with the history of the branch. That way, you're giving content that's just a bit different. It helps keep Google from lowering the PageRank of the pages based on duplicate content.
Reviews
Reviews are vital to your business's presence in the local three pack. They're one of the most important ranking signals for inclusion in the local three pack and there are good reasons for that.
First of all, people trust reviews. They provide a way for a searcher to know whether they should patronize one of the businesses displayed in the results. They give feedback that is valuable for a person to make a decision about where they're going to go once they take action after their search.
According to BrightLocal, 92 percent of customers read reviews of businesses online on a regular basis. So almost the entire potential customer base you can get from Google searches gets information from these reviews. The same survey showed that 68 percent of respondents said positive reviews engendered trust in the company being reviewed.
Since 80 percent of customers will leave a review when asked, start canvassing for reviews from satisfied customers. There are lots of ways to encourage people to have their say online—for example, you could include a note on the receipt asking for a review on Google. There are many sites that offer reviews, but if you're trying to rank in the local three pack, try to get customers to leave Google reviews specifically.
Mobile-Friendly Pages
Since so many people use mobile devices, having a mobile site is strongly correlated with inclusion in the local three pack. Even if your site looks good to you, it may not appear correctly on every type of device. Consider investing in responsive design, so that you site adjusts to whatever device accesses it.
As with any changes to your site, check for errors and problematic formatting when you launch the adjustments. Having a site that doesn't display correctly will hurt your attempts to rank high enough to appear in the local three pack. Google's Search Console has a Mobile Usability option where you can see whether any issues exist.
Inclusion in Google's local three pack will help you connect with customers in your area. Since so many searchers use Google to find information on local businesses, you're leaving money on the table if you're not optimized for local search. Since the strategies that get you into the local three pack are also good for your SEO, you're doing your business a favor by working to get into one of the top three results, even if it takes some time to knock others out of the spaces.