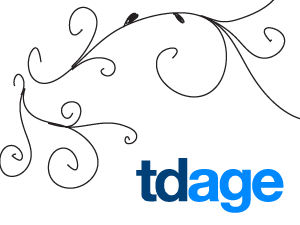 We are pleased to announce the November Performancing WordPress Theme: TDAge
A free, public release version of design guru Thord Daniel Hedengren's Swedish-language blog, TDAge is a light-blue themed design with big, bold feed and "about" images, and large-font headers. TDAge also has easy access links to a blog's pages and categories from the headers, and has a clean-cut pre-defined template for use as an archive summary page.
TDAge is a pun for TDH, which stands for–you guessed it!–Thord Daniel Hedengren, who has developed various designs for Splashpress Media, including the Blog Herald, Jack of All Blogs, Blog Network Watch, Blogger Jobs, Bloggy Award, Audival, Wisdump, Devlounge, and many more. Thord has also collaborated with us on other Performancing WordPress Theme releases: One in a Million and Estranged.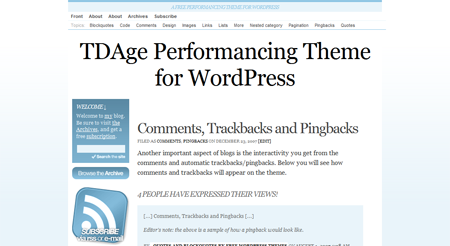 Usage notes
Image alignment. You can align images by using the following:
Left: class="alignleft"
Right: class="alignright"
Center: class="aligncenter"
Or if you're using the WordPress editor's media manager, the "left" and "right" classes will automatically be inherited by the image.
Category headers. The theme will automatically display parent categories in the header. Thus, the default design is meant for blogs with just a few categories. Otherwise, this line tends to be very long. Users can take out the Topic line, though.
Archives Page. The TDAge theme has a built-in template page for the archives (a sample here). This can be activated by creating a page using archives as its slug, and by selecting the "The Archives" template.
Update
Additional usage note: TDAge was originally intended for use with a single-post homepage, thus the long list of posts under the "More from the Archives" box, and also the fact that the sidebar is bare, save for the RSS button and a short welcome note. But of course, you are free to display as many posts as you want, and also to add items to the sidebar.
If you wish to add items to the sidebar, these can be enclosed with the following to create the blue boxes:
<ul id="menu">
<h3>Heading goes here</h3>
Your text goes here.
</ul>

Also, we've updated the theme download to include the blogroll out of the box.
Support and Download
Official support for the theme can be found at the Performancing Community Forums.
See a live preview of TDAge here.
Update: TDAge has been updated for compatibility with WordPress 2.7 and up. Download the latest version here.
Download TDAge Theme for WordPress.