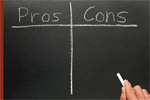 Politicians, musicians, non-profits, companies, and bloggers alike have press kits, or a media kit, all of which are utilized for various ends. They explain why they're so very different from other people in their industry as well as the data that serves to prove as much.
If you decide to create a press kit with which to greet your potential sponsors, you must realize it can open as many doors as it can shut. Will those doors swing open for you to find a charmingly rotund and bespectacled butler bidding you the top of the morning? Or will you find that you're actually the doormat instead?
Cons.
1)   Ad Rates You'd Settle For? No More.
Publishing the prices of all your available ads will send some people packing, even the companies you'd happily endorse. If you're reasonably flexible, especially for independent companies, it shows character to note as much. Otherwise, you may be seen as unapproachable as a dark house with a BEWARE OF DOG sign on Halloween, and definitely not open for business.
2)   Updating Analytics and Selling Points Quarterly
Analytics and metrics like Google Pagerank, Alexa score, mozRank, and keyword ranks in search engines will ebb and flow. If your press kit boasts of your impressive traffic uniques from last summer, you're sure to raise a suspicious eyebrow. You must be able to access and edit your press kit at a moment's notice! If you're unable to create a PDF document, this is your stop sign. Stop. Now.
3)   It's impersonal.
It's not like you're trying to wine, dine, and woo potential sponsors. Consider for a moment, however, your poor brain synapses firing off the second you open an email such as this:
To whom it may concern:
Wow, pleasure to meet you! I'd like to advertise on BLOG NAME. Gee it's neat andsuper and so relevant to my cardboard packaging adhesive client, who are also neat  and super…
It may take a lot of nerve to compare this cut and paste abuse to a press kit with outlined ad spaces, marked with "YOUR AD HERE". Roll your eyes if you must. Your press kit is an auto-response all the same; no matter how pretty your auto-response may be, it doesn't speak to your ability to network and build business relationships as much as a human reply, does it?
4)   It's bad for productivity
To reverse roles, a press kit's demographic is marketers and admen. As an adlady myself, this old game gets tiring indeed, especially if you've got a cute deskmate.
1.   contact blogger to inquire about sponsorship opportunities
2.   happiness to see your reply
3.   Sigh when we have to open the fourth press kit of the day (cute deskmate giggles at you)
4.   PDF still loading… (desk mate is actually laughing out loud)
5.   Find out said blogger is too expensive, but not until the fifth page of the press kit
6. Sigh even louder (cute deskmate now worried about you.)
7. Vow to stop opening press kits.
Most interpretational dance pieces end on happier notes, and those are quite insufferable as is. Point is, a lot of people won't bother opening document, period, and will pitch anyway.
Pros.
1)   Advertisers know what to expect
I do hope you're sitting down because it may come as a shock when I tell you… that marketers have agendas. They had one before they even found your blog. They will skim your lovely press kit to evaluate your amenability to their current promotion; if you make yourself clear and your standards known, you take away any disappointing surprises. Which may or may not be fun for you.
2)   It's an opportunity for branding.
Social media? Check. Guest posting presence? Check. Book deal? Someday! Even if you've managed to apply yourself in many outlets for your loyal public to plug into, dazzle them again! A press kit, much like an advertisement, is no place to be humble. Rather, it's the perfect place to tell us how badass you are.
3)   Ad acceptance is at your discretion
As I hinted at earlier, your press kit may filter your ad market in ways CAPTCHAs never will. Ad agencies are an alternative to managing your own accounts, where press kits are implied for lacking, and they will wrangle all aspects of sponsorship with aplomb. Having a press kit, though, means you hold court on your blog and no other entities speak for you.
4)   Complete and utter gratification.
Summarize your blog. The years you've spent editing posts again and again, replying to comments, and perfecting your unique voice as if you were in finishing school. Your blog is quite the character. Boil down the stories into a narrative, a hurricane's eye, or a broth. Roll it into a tight little ball of potential energy and I dare you not to smile. In fact, I dare you not to put it on your own fridge.
A press kit won't make or break you – there's always time to regroup and always a different point of gravity to catch you. That's not to say you should consult a magic 8-ball or flip a coin: this is one of those decisions you won't benefit from if you act on a whim. Thoughtful research, craftsmanship, and perhaps a tablespoon of whimsy will bring your press kit and any promotional endeavor full circle.