Darren Rowse has an excellent video post where he talks about what kept him from quitting on one of his blogs. He started this new blog and had been blogging for a couple of months. He was discouraged because his income was low. He was only making a couple dollars a day.
However, he kept blogging because whenever he looked at the trend of his monthly earnings, he saw that he was experiencing at least 30% growth. So even though he was only making a couple dollars day, compared to the previous months he had increased his daily earnings by a big percentage.
He didn't give his exact earnings, so let's look at a hypothetical example to make things clearer. Let's say after the first 30 days of blogging you make $1.00 a day. Then, the next month you make $2.00 a day. When you compare both months, you actually gained 100%. While $2.00 a day is not something to brag about, you're doing well because your trending up.
Let's look at a long term example. If you make $1.00 day in one month and you have 30% growth every month, in just two years, you'll make over $400 a day. Not bad for two years work, right? $400 daily is $12,000 a month.
Here is a table the shows the power of exponential growth.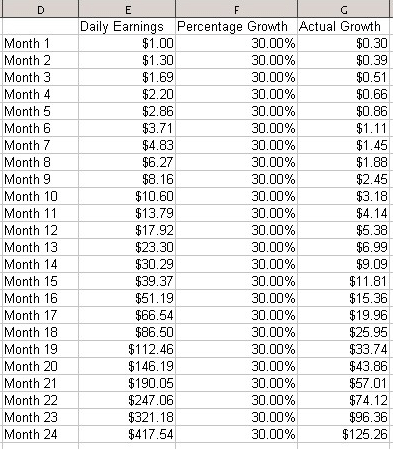 Darren advises that you should focus on your trends rather than your absolute income numbers. Is your income growing by a good percentage every month? If so, you're on the right track.
To experience blogging success, write with the long term in mind. Don't be discouraged with the low income of the early days. Give yourself time to succeed. If you have a good string of percentage growth for a couple months, keep doing what you're doing. Don't give up. In due time, exponential growth will flex its muscles and you'll be making a much greater monthly income.
Further Reading
For your blog to be successful you need to stick with it.
Blogging for the Future