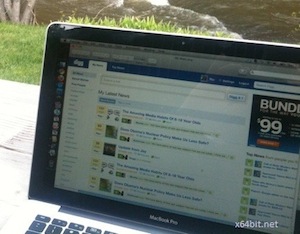 You might already know that social news and voting site Digg is undergoing some changes that'll be rolled out in the near future. But if you want a glimpse of what the changes might be, TechCrunch has an annotated version of a picture that Digg CEO Kevin Rose tweeted over the weekend, with a bit of an analysis. The picture is of Rose's MacBook Pro screen, though the sun's glare makes it a bit difficult to see much. (An updated picture, albeit smaller, shows the screen more clearly.) From TechCrunch has gleaned, it appears that the new Digg will be even more social, with user avatars showing more prominently, embedded status updates related to story items and more. [Image courtesy of X64bit.]
Do you do a lot of downloading, screen captures, podcasting, video blogging or screencasting? Well then Seagate has a monster hard drive for growing data storage needs. Thinq is reporting that Seagate has confirmed an upcoming 3TB drive for later this year. That's TeraBytes, as in 1,000 times a GigaByte. My MacBook Pro's 500GB drive is filling up awfully fast, but that's due to photo and video work I'm doing with my wife, a filmmaker. I have a few internal drives in my blogging setup, though one is for backups and the other requires two USB ports and gets whiny sometimes and simply doesn't function. While a 3TB drive does sound tempting, from a purely mechanical point of view, I'd much rather have three 1TB drives or six 500GB drives. This would allow you to assign drives for different purposes, and if one fails, you don't lose all your data.
Postrank is reporting that traditional hosted blog platforms such as Blogspot, WordPress and Typepad are still way ahead of supposedly popular microblogging services such as Tumblr and Posterous. ReadWriteWeb's Marshall Kirkpatrick provides a bit of an analysis of the Postrank report, showing that Blogger is the king of comments. But while hosted blog services serve their purpose, if you're trying to build a brand, you want to host your own blog, using WordPress, Drupal, Moveable Type, Joomla, Expression Engine, etc.
The EFF (Electronic Frontier Foundation) has published a report (PDF, 19 pages) on their findings of a experiment to study browser signatures. It appears that even if you have cookies turned off, 8 in 10 browsers still leave a unique, trackable signature, like a fingerprint, that could be used to track your surfing — especially if you have Adobe Flash or Java plugins installed. That doesn't necessarily mean the government is watching you, but rather that it would be a boon to marketers. Of course, there's an inherent violation of privacy if your browser is ratting you out. On a related note, even the speed and rhythm with which you type in a site's password could give you away.