Plugins can be an easy way to increase Twitter Followers and likes on Facebook. They are fairly easy to add for webmasters or developers onto the backend coding of the site and usually begin working immediately. Additionally, plugins are available straight from the social media sites themselves, thus making them more likely to work accurately and not add on any additional code or bugs that aren't necessary. There are some third party plugins and widgets that can connect to Twitter and Facebook using their API, but unless the original developer plugin isn't working, these aren't usually the best option.
All plugins may not be a direct call-to-action to follow or like the company, but any involvement via social media can increase a company's brand awareness and overall social media success.
Twitter

There are several ways that webmasters can add Twitter plugins (called buttons on the Twitter website)to their websites to get their visitors involved with the company's Twitter account. These include:
Share a Link: Allows a user to tweet a link to a certain blog post or web page on a website.
Follow:  Takes the user to the company's Twitter account to follow them
Hashtag: The user can tweet a company or custom hashtag that has to do with a company's blog, current product campaign, or other type of imitative.
Mention: Lets the user write a tweet that @ mentions the company's Twitter handle.
Twitter also has four different kinds of plugins for websites, which they call widgets. They include:
Profile Widget: displays the most recent company Twitter account updates
Search Widget:  displays search results on Twitter in real time (which wouldn't necessarily be beneficial in increasing Twitter followers, unless the search term was for the company's twitter handle)
Faves Widget: highlights the Twitter account's favorite tweets
 List Widget: displays certain lists of Twitter followers that the profile had put together
Facebook
There are several difference Social Plugins on Facebook for website developers. These include actions to Like, Subscribe, Send Content via Facebook, and more.
Additionally, webmasters can also add a Facebook Like Box to the sidebar or static area of their site. You can add the Facebook Page stream or thumbnails of current Facebook profile likes.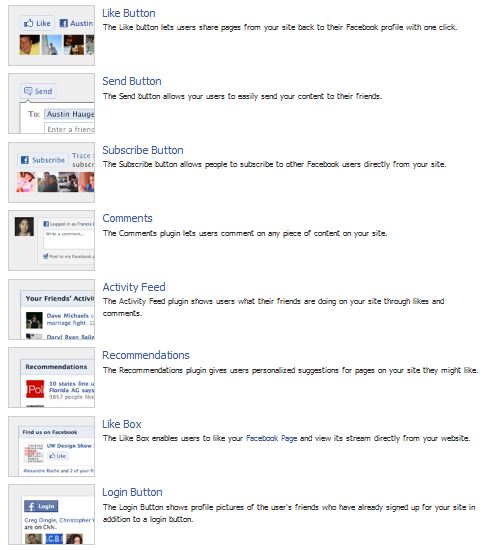 Additionally, it is possible to only have the Company Page name and then the like button, with the number of likes.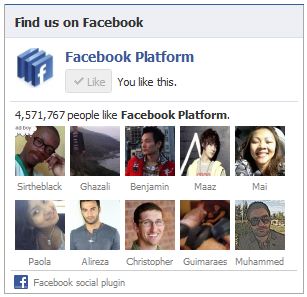 Installation
Through the Twitter and Facebook plugin pages, developers can select their preferences to build the custom widget. Once all the preferences are selected, the page generates a code that is copy and pasted into the backend of the website as instructed.
Kelsey Jones runs her own social media and search marketing business, The Social Robot, where she helps clients grow their online presence. She was voted one of the top 100 marketers of the year by Invesp in 2009 and has worked for Yelp, Run.com, and Bounty Towels. Check her out at The Social Robot and on Twitter @wonderwall7.