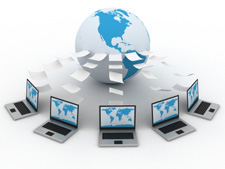 Can a budget web hosting service give you value for your money? How do you know which features are needed? There are no steadfast rules that can determine a webhosting company's ability to provide an exceptional experience to the user merely based on price, but then again, you never want to just take the cheapest plan offered either. Understand what a good webhosting service provides – which is to place your website or blog on a server that connects to the Internet quickly and efficiently. You don't want to have to deal with technical issues when you're trying to concentrate on building your business.
Finding a web hosting company when you are first starting out and on a very tight budget can be a daunting task. There are literally thousands to choose from, and almost every company will advertise and initially promise you high quality at an affordable price. Services normally run between $3.95 and $7.95 monthly. Be careful however, and look for an honest and professional web hosting company by being a smart and informed consumer. Here are a few necessary criteria that will help you in your search.
Look for a web hosting company that has been around for a few years. Think of the consequences to your business if a web hosting company simply disappears one morning when you are trying desperately to sign on and nothing happens. There are so many web hosting companies trying to make it these days. Make sure the company you choose is stable and doesn't look like it will go out of business.
Check on the reliability of the hosting infrastructure and data center facilities. Evaluate redundant or backup power supplies, data communication, and environmental controls such as air-conditioning, fire, and security controls.
Check and double check prices. Are setup fees included or are they extra? Ask for a rundown of all fees.
What hosting awards has the organization earned? Look for reviews. Beware however that review sites can be biased and just based upon marketing and advertising dollars. It is impossible to verify everyone, and even good hosts with great reviews cannot always please everyone.  Reviews should be viewed as just one tool of many when researching a prospective host.
Investigate the customer service offered. Admittedly you should be able to wait for normal business hours to discuss a glitch in your bill, but are customer representatives available by email, phone, or online chat?
How many customers does the webhosting service accommodate? Keep in mind that with shared hosting you are pooling the bandwidth on the server with everyone else.
Never settle for less than a 24/7/365 technical support. Surely you don't want to have trouble on a Friday afternoon and have to wait until regular business hours on Monday to get back online. Imagine the money and the customers you could have lost by being down for all of that time?
Read customer satisfaction reviews. Nearly every company makes someone unhappy at one time or another, but if the negative reviews outweigh the positive, it's time to move on and look for another webhosting company.
Make sure the company offers a money back guarantee if you are not satisfied. (at least for the first month)
Now it's time to deal with the features. Often you will see an advertisement guaranteeing "unlimited bandwidth" – or a promise of unlimited traffic to and from your website. Claims like this are exaggerated; after all bandwidth is really a finite resource that budget companies purchase. Bandwidth is limited by the performance of the server, so if a web server has a huge amount of other hosted internet domains, the server can become extremely slow. The same thoughts can be considered for disk space, but also be sure you will have the ability to upgrade as your website grows.
Pay attention to the control panel which allows users to perform tasks related to the administration and management of the website. One of the most popular control panels is cPanel. It lets you easily manage files and you can upload, edit, extract zip archives, and it even offers a one step installation of WordPress, blogs, and shopping carts.
If you're unfamiliar with how to make a website, free web design templates are available. Some web hosting services will also offer easy site builders if you don't know programming.
Check on other technical requirements you will need for your website. For instance, using Unix/Linux platforms is standard when you use programming language such as Perl, CGI, SSI, PHP or MySQL database. If you plan to set up a website that uses Active Server Pages (ASP), Cold Fusion, Microsoft Access or Microsoft SQL databases, then you will want to use a Windows platform.
Do your homework and be thorough in your research. It's heartbreaking to imagine losing an entire website with no recourse simply because you chose some fly by night organization that just popped up on the Internet a few weeks ago. Learn from others, and use their experience and reviews to help you make the right decision.