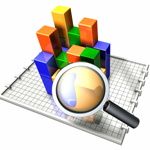 Whether you are a new webmaster or a seasoned blog owner, we all need outside input to help our site grow, spot weaknesses and find ways to improve our homes on the Web.
Though there is no substitute for human analysis and honest, personal feedback, there have been many attempts by developers to build automated feedback systems to help blog owners find areas they can improve their sites and discover their hidden strengths.
Though many of these tools quickly fell by the wayside, others provide valuable information that is both useful and actionable for webmasters.
On that note, here are seven automatic site analysis tools that you can use to help you achieve your goals on the Web and grow your presence online.

1. SiteReportCard: Though not the most in-depth tool on the Web, SiteReportCard provides a quick check up on how your site is doing in several key areas including broken links, page load time and HTML validity. Makes it easy to spot any glaring problems with your site that you might want to examine deeper.
2. SpyderMate: If you're serious about your site's SEO, you can sign up for a free account with SpyderMate and put your site through its thorough analysis. Spydermate will tell you about your site's backlinks, the performance of it canonical URLs, its rank in Alexa as well as Compete, your keywords and who your competitors are in the SERPs. Best of all, you even get a comparison in different categories to the "average" site and a final tally of your site's overall performance.
3. Pingdom Full Page Test: Though Pingdom is best known as an uptime monitoring service, it can also let you know how fast your site is loading through its Full Page Test. Pingdom will download your page, behaving like a real Web browser, and produce a "waterfall" graph that shows where your slowdowns are and what you might be able to do to speed your site up. A simple tool to find out why your site is loading slow and see how it loads to other, more human, visitors.
4. Web Page Speed Report: Another website speed test, Web Page Speed Report takes a look at the content of your site and sees where you might be able to save some downloading time. Though it may not have the visuals of Pingdom, it offers a slew of additional data including header size, how much could be saved through compression and warnings and suggestions for improvement. A great tool for those who don't mind a more text-oriented breakdown of their site's performance.
5. W3C Markup Validation Service: The W3C is responsible for creating the standards, such as HTML, that make the Web work. They offer a free validation service that is the gold standard for making sure that your code is compliant with the standard. Though perfect compliance isn't as important as being cross-browser compatible, The service will help you see if there are any potential major errors with your site that you might want to address.
6. BrowserShots: Speaking of browser compatibility, if you want to see how your site looks in a variety of browsers BrowserShots can help. Browsershots lets you see how your site looks in dozens of different browsers, including some very obscure ones, to make sure that it loads properly for everyone. Though the service can be a bit slow, it can be an invaluable tool for ironing out design issues, especially in browsers for operating systems you don't own.
7. BuiltWith: BuiltWith is not a typical tool on this list in that you don't run it on your own site, but rather, a site you wish to emulate. BuiltWith will tell you how a site is made including the platform it runs on, the trackers it uses, the OS/Web server it uses and much, much more. A great tool if you want to figure out how a site is made and try to emulate its success.
Once again, these tools, nor any automated solution, is no substitute for human feedback but you can certainly gain a great deal by using them. They may help you find weak spots in your site and point to things you want to focus on in the future, letting you spend your efforts more wisely.
Considering that all of these tools are free and can be run in only a few seconds, it's probably worth seeing what they have to say, if for no other reason than to save yourself time and headache down the road.
Guest Post: This post is by Lior who works for iAdvize, one of the best live support tools on the web and is also a consultant for Producteev, an online task management company.