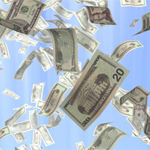 While many writers blog because they are passionate about their subject matter, no one can deny that getting compensated for your efforts is a huge plus! But monetizing a blog can be time-consuming and tricky.  For instance, promoting an irrelevant or scammy product can wear out reader trust. Thankfully there are a number of tools that bloggers can utilize in order to make the process easier.
For monetization purposes, WordPress is an unbeatable platform that will help you get the best of almost everything. Its strength lies in its user-friendly interface and a thriving community of developers who continually create new plug-ins for the platform. This makes it a lot easier for bloggers to automate routine tasks to become more efficient and up-to-date. In this article, I have compiled a few top WordPress monetization tools that are designed to increase your blogging income…
WP125 – if you have enough advertisers who want to be displayed on your blog, this plug-in helps you manage ad display. This is best for bloggers who are handling direct advertisers as it keeps track of click through and the expiry date of the advertisement. You'll also receive notification if a certain ad is about to expire.
Advertising Manager –one of the most popular plug-ins out there. This tool does not disappoint as it rotates the displayed ads on the sidebar of the template, making these ads look more attractive and a lot less boring!
Ozh' Who Sees Ads – this plug-in allows you to define user conditions which basically enable you to control who sees the ads. The visitors will see different types of ads depending on whether they are referred by the search engines, regular visitors, or are reading archived content.
Buy Me a Beer/Coffee – a PayPal donation plug-in, it allows you to get donations from readers. It is particularly popular among bloggers in the green, consumer awareness, and other non-profit sector. The Buy Me a Beer/Coffee plug-in lets you get a monetary benefit from reader appreciation.
Amazon SimpleAdmin – with thousands of products available at Amazon, becoming one of their affiliates can be a financially rewarding experience. This plug-in is specifically designed to let you integrate Amazon products into your content pages.
WordPress BankRoll Plugin – this plug-in provides simple yet very useful features. For example, it allows you to sell blog posts, write paid reviews, or get content for free from the readers.
The plug-ins outlined here will help you get started! Other monetization plug-ins on WordPress include tools that let you display AdSense widgets automatically in specified positions. There are simply too many plug-ins to fit in this article, so if you do not like any of the tools above, try doing a search on the WordPress platform to find more widgets that can increase your blog revenue!